Hello lovelies!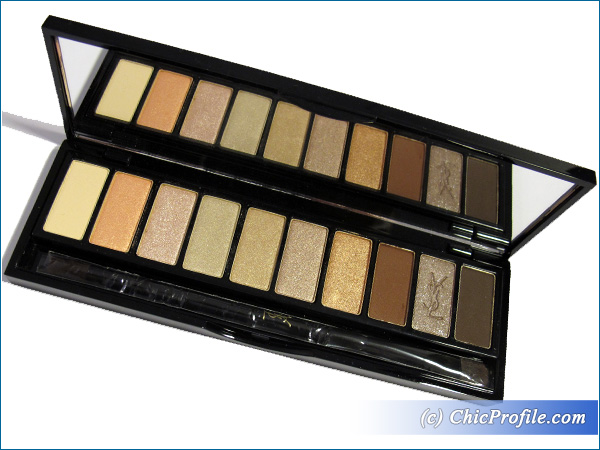 Yes, it has arrived and it's finally mine! I'm jumping with joy at the sight of the new YSL Couture Variation 10-Color Eye Palette in No.1 Nu (£49.00 / $95.00 / 313.00 Lei)and since I got my hands on it yesterda I can't stop admiring it. Yes, for me it was love at first sight and I knew when I posted the article about the newness of YSL Spring 2015 that I definitely want this palette. Recently released, YSL Nu Palette is the kind of eyeshadow palette that couldn't have missed from my collection because of its 10 color variations of nudes and naturals but also because of the sleek, glamorous and elegant packaging. For those of you who are not looking for naturals this season you can check out the new YSL Couture Variation 10-Color Eye Palette in Tuxedo (info, photos).
Availability
U.S. Launch Date – Now at Nordstrom and online @nordstrom.com, @yslbeautyus.com
U.K. Launch Date – Now at  John Lewis, Selfridges, House of Fraser
I will play with this palette for a few days before I'll post my review followed by a makeup inspired look but I just couldn't let you wait that long for swatches and a quick sneak peek. This palette is just way to gorgeous, the variations of the 10 eyeshadows is amazing, featuring a nude color base, light, medium and dark colors just the perfect combination for a day makeup look that can be easily retouched and transformed into a smoky makeup look perfect for night day or party appropriate.
The colors are pigmented, the apply easily, while finishes range from matte to sparkling and metallic. The first 5 eye colors are more day time appropriate while the last 5 can intensify any makeup look as they are darker. What's not to love about YSL Couture Variation Palette which came just in time for 2015 spring season? Every nude color combination is here, beginning with light silvery pink, light gold, copper and continuing with beiges, darker pink champagne and bronzy shades while it leaves the matte dark browns at the end.
The YSL Nu Palette also comes with a mirror encased and a dual-end brush of a decent quality, one end for blending while the other can be used for patting on the eyeshadow.
I'm going away for the weekend so the new YSL Couture Variation Palette will accompany me as it also makes a great travel eyeshadow palette. I will let you enjoy more photos and in the upcoming days I will post a detailed review and a new makeup look using the shades from this palette.