Hello beauties!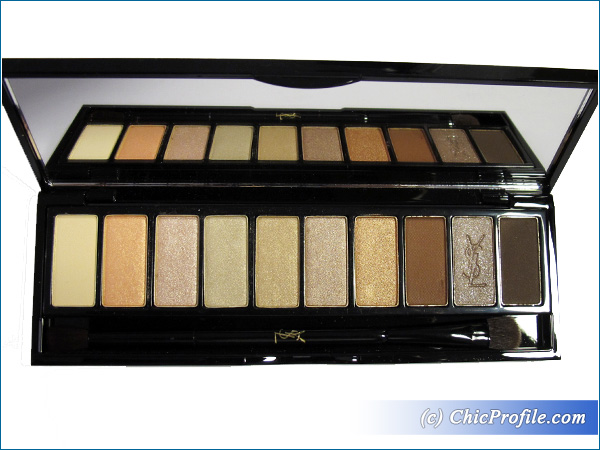 It all started last week when I finally had the new YSL Couture Variation 10-Color Eye Palette No. 01 Nu (preview, photos) in my hands. Since I first posted the official info and promo photos about this palette I knew how much I want it and I couldn't wait to have it and to start playing with it, swatching it and trying all different kind of makeup looks.
Availability
U.S. Launch Date – Now at Nordstrom and online @nordstrom.com, @yslbeautyus.com
U.K. Launch Date – Now at  John Lewis, Selfridges, House of Fraser
Romania Launch Date – April 2015 at Douglas perfumeries
YSL Couture Variation 10-Color Eye Palette No.01 Nu (£49.00 / $95.00 / 313.00 Lei) is a new limited edition eyeshadow palette featuring 10 nude shades ranging from pale to deep with matte and shimmery finishes. It comes in a long, sleek black couture case which looks very elegant and classy and has also included a dual-ended brush. It also great for traveling as the packaging is quite slim, has a mirror enclosed and the dual-ended brush offers quite a decent quality and can help you apply eyeshadows as well as blending them.
All the 10 YSL eye shadows offer a high color payoff, they are highly pigmented and apply with ease with or without a primer. They have a smooth and soft texture, they blend out easily and without fallout. I love how some of the shades give luminosity while others give depth and a mysterious twist perfect for achieving a smokey eye. I like the variations of beiges, sand, champagne, golds, bronzes, copper and brown shades that can be used either for a natural day makeup or intensified for a night time look.
YSL Nu Palette starts with the lightest shades and reveals the darkest ones at the end. Shades No 2,3,4,5,6,7,9 have a high shine, shimmery finish, almost like a metallic one, while No.1 is a perfect nude that can be used for blending in the crease, applying on the lid or creating a simple natural look. The darkest shades are No.8 and 10 and along with No.1 they are the only ones with a matte finish.
I've played with this palette for the last couple of days, tested and wore each of these shades and they are long lasting, they wore for hours without creasing or fading. The palette is absolutely gorgeous and it is really worth the investment but I won't lie that is quite on the expensive side.
This palette can be also seen like a luxurious version of the famous Urban Decay Naked Palette only that is a bit smaller and shorter by 2 eye shades and has an extremely elegant and high quality packaging.
Enjoy more photos…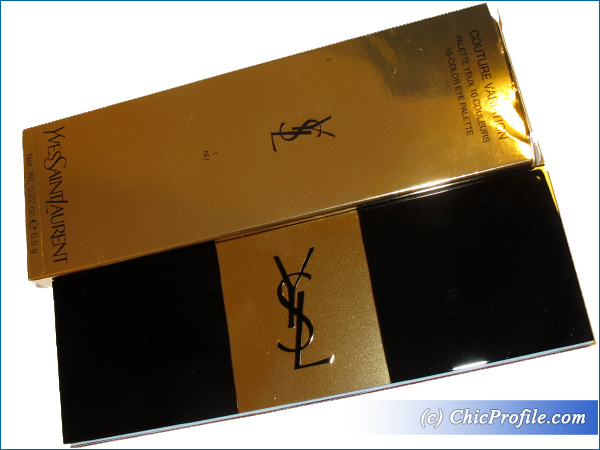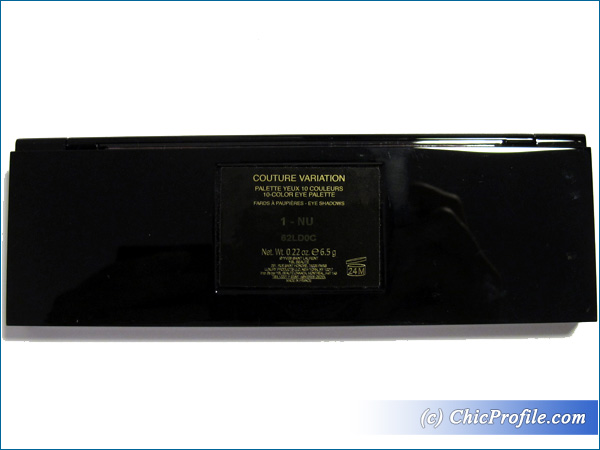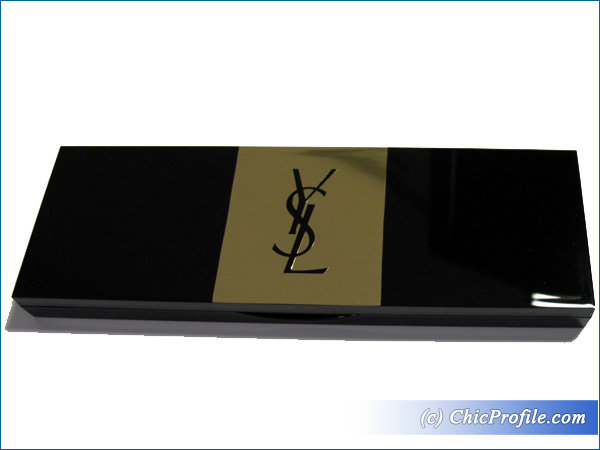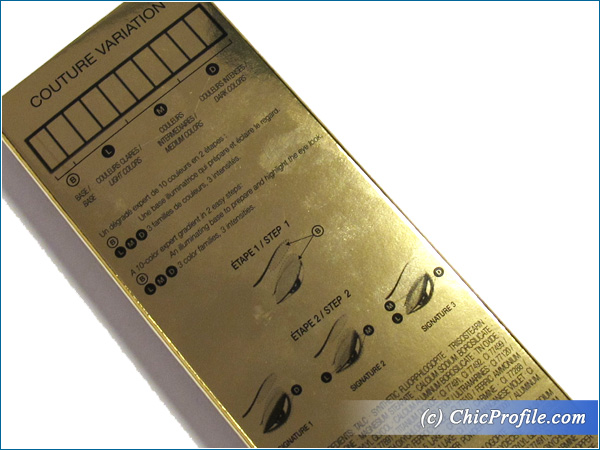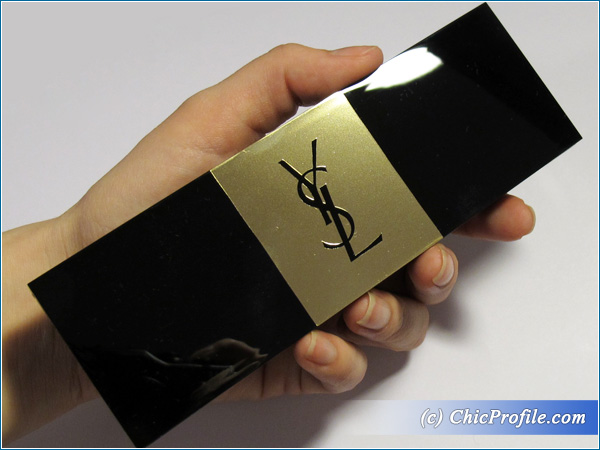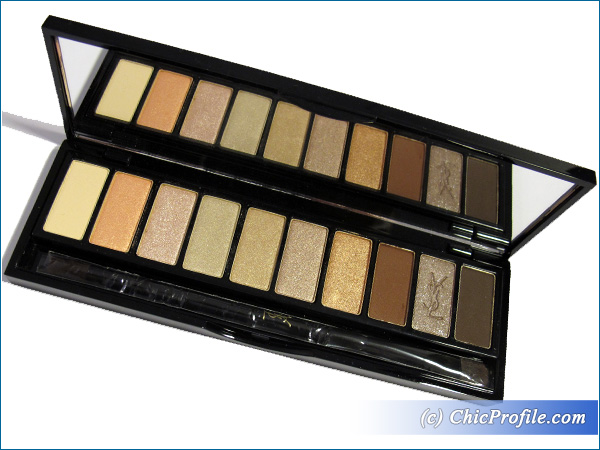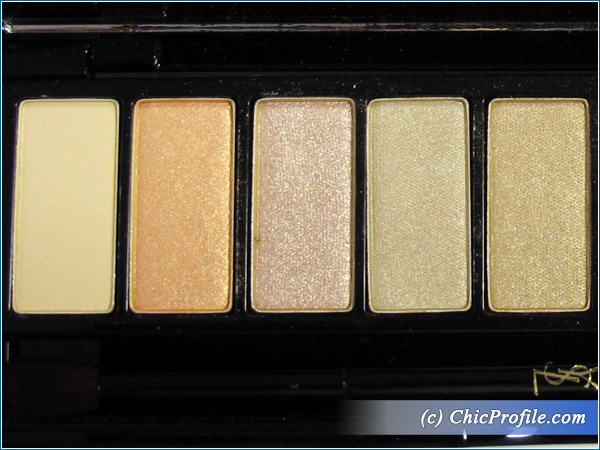 YSL Couture Variation 10 Color Eye Palette No.01 Nu Swatches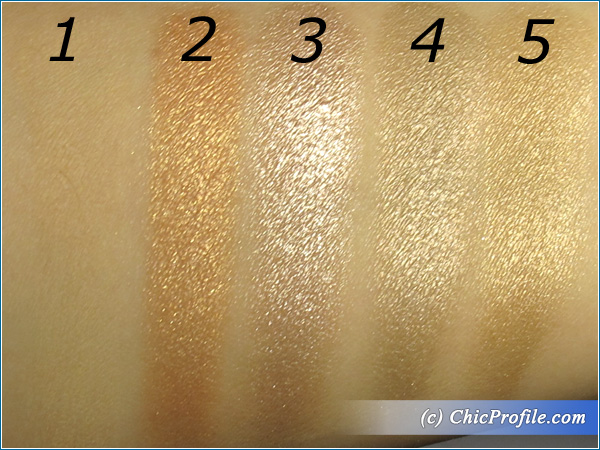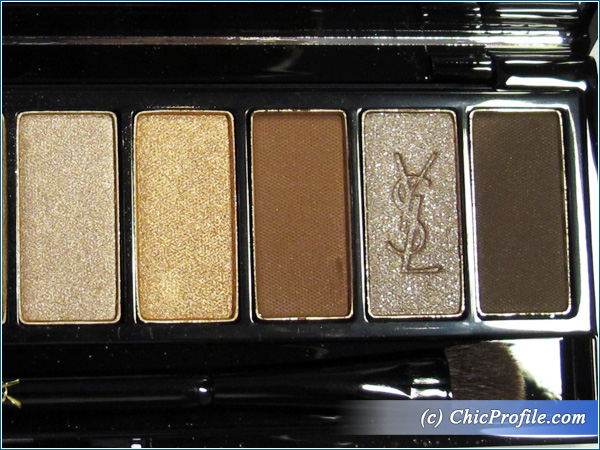 YSL Couture Variation 10 Color Eye Palette No.01 Nu Swatches