Hello sweeties!
I just can't seem to take my eyes off of this promo image with the new Viktor&Rolf Bonbon Couture fragrance for women launching this month. I'm still not over the original Viktor&Rolf Bonbon (fragrance set, review) perfume, which still beautifies my fragrance collection and sweetens my senses every now and then. I was absolutely in love with this scent, well it was more like love at first sight with the packaging…pink bow-shaped bottle, it's so hard to resist it, so I bought an entire fragrance set with complementary products like body lotion, shower gel and a mini fragrance. I have to admit the scent is a bit too sweet for my taste but every now and then I like to indulge myself into this caramel scented fragrance and imagine myself in a chocolaterie.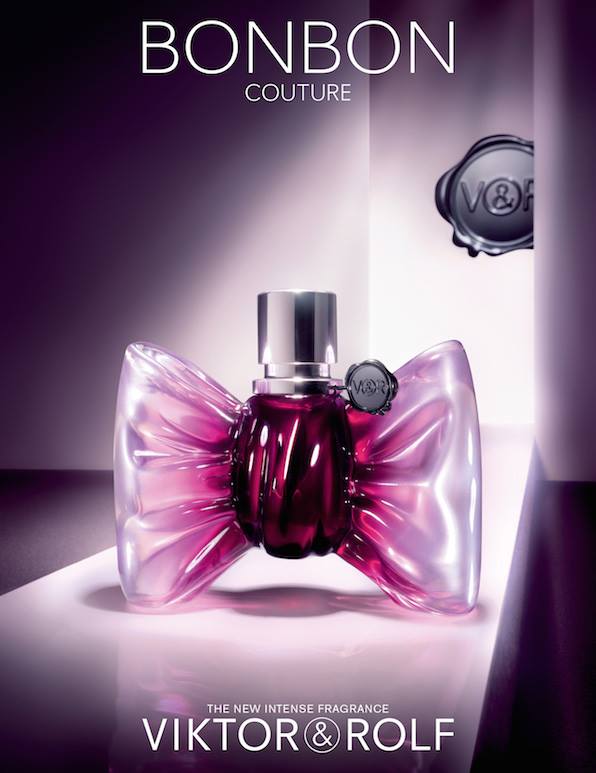 Availability
International Launch Date – August 2016
Viktor & Rolf Bonbon Couture
Back in winter when I was in London, I saw the gorgeous holiday 2015 limited edition of Viktor&Rolf Bonbon Swarovski perfume, a real treat and collector's fragrance I'd say thanks to the glamorous and expensive packaging.
The new Viktor&Rolf Bonbon Couture fragrance will be more intense and stronger than the previous version and with more powerful notes of caramel. Thank goodness that this will be launching as a fall 2016 fragrance as for sure it will be a more sweeter version and during the summer I don't think that my nose can take it. 🙂
The fragrance will be available as 30 ml and 50 ml Eau de Parfum intense.
Fragrance Notes:
Top Notes: Mandarin Orange, Neroli, Peach
Heart Notes: Orange Blossom, Jasmine Sambac, Caramel
Base Notes: Patchouli, Sandalwood, Vanilla, White Tobacco
Enjoy…