Hello beauties!
You know my passion for Victoria's Secret lip glosses so last week at the Beauty Swap by BeautyBarometer event I got this new shade from a dear friend and beauty blogger in exchange for one of my Max Factor double ended lipsticks.
Victoria's Secret Holographic Gloss was released as a limited edition, as far as I know and even though is not currently available on their official website you can still find it online.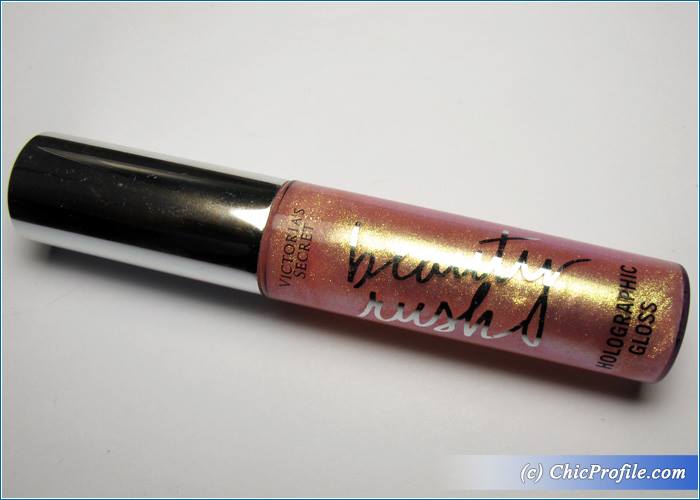 Availability
U.S. / International – Now at Ebay, Amazon
Victoria's Secret Flawless Holographic Gloss ($10.00 for 10 g / .35 oz) is a transparent light peach with holographic gold and silver shimmer. It has a semi-sheer color coverage but it will mesmerize you with is golden shimmering particles that creates such a holographic effect and intense shine.
I'm telling you, honestly, that since I got this gloss I've been wearing it every single day. I'm a sucker for a lip gloss that can provides an intense shine, that gorgeous  wet lips effect and most times I even prefer a semi-sheer coverage. It has a light formula, non sticky, no-tacky, that applies evenly across the lip without dragging.
I was amazed when I saw the packaging, a transparent tube with a silver cap, as this gloss is huge, containing so much product and has this big doe-footed applicator.
If you are into pigmented and intense lip colors this will definitely not be your choice, but if you prefer something more natural and sparkling then you should check it out. I love that it can be worn not only on its own but also over a lipstick to give it an intense shine and a bit glowing color thanks to that rich gold shimmer.
It doesn't sink into lip line, on the contrary it makes lips appear fuller and plump so this could be used as a go-to lip product on a daily basis. I had about 3 hours wear with this formula and even after the color was gone, the micro-glitters remained on the lips for a few more hours.
Enjoy more photos…