Hello beauties!
Jerrod Blandino is been teasing us with the new Too Faced Summer 2017 Makeup Collection for weeks now, on his Instagram account. One of the star products of this collection, Peanut Butter and Honey Palette will be available exclusively at ULTA, while the rest of the items will be found on the official website. I've put together in this article everything I know about Too Faced Summer 2017 Makeup Collection so you are welcome to check it out.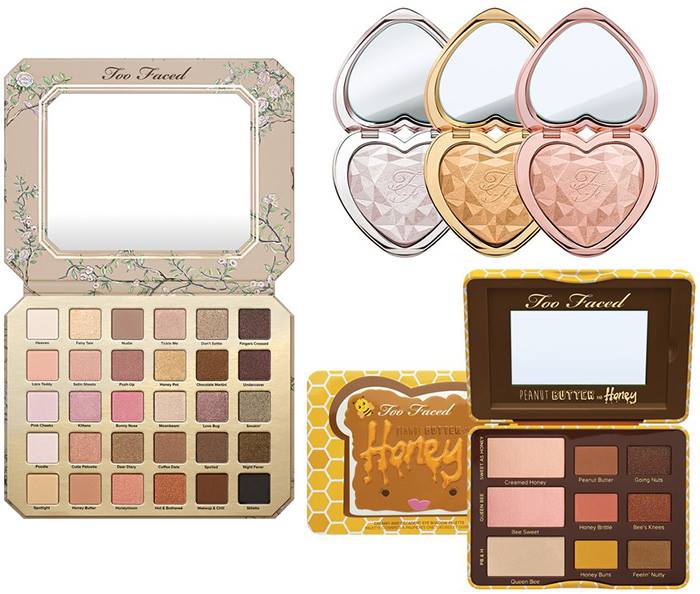 Availability
U.S. Launch Date –  9 March 2017 online @toofaced.com | Peanut Butter & Honey Palette exclusively to ULTA
Too Faced Summer 2017 Makeup Collection
Peanut Butter and Honey Palette – Limited Edition – $36.00 (ULTA Exclusive)

Creamed Honey

– very pale peach

Peanut Butter

– matte medium orange brown

Honey Brittle

– matte peach

Queen Bee

– vanilla cream

Bee Sweet

– matte lightly peachy pink

Honey Buns

– matte honey yellow

Feelin' Nutty

– matte caramel

Going Nuts

– bronzed mocha

Bees Knees

– burnt orange with gold sparkle
Love Light Highlighter – Limited Edition – $30.00
The adorable heart-shaped compact is back…this time not for a new edition of Love Flush blushes but to reveal three new highlighter shades.
You Light Up My Life – silver
Blinded by the Light – gold
Ray of Light – rose-gold
Natural Love Palette – Limited Edition – $59.00
For all you natural lovers out there, your beauty dreams have just become reality. From professional makeup artists to starlets and real women, the natural eye had been one of the most coveted but challenging looks to achieve until Too Faced created the original Natural Eye palette in 2009. With essential neutral shades and our signature get-the-look Glamour Guides, Too Faced changed the beauty world forever. To celebrate this iconic look, get ready to fall hard for the first-ever Natural Love Eye Shadow Collection blockbuster with 30 naturally gorgeous eye shadows! Of course we had to include some of your favorites from the bestselling Natural Eyes, Natural Matte, and Natural At Night palettes, but get ready to take your neutral game to the next level with new exclusive shades.
Chocolate Brow-nie – Limited Edition – $23.00
Take your brow game to the next level with our waterproof, cocoa powder-infused formula that conditions brow hair while offering perfectly defined and groomed brows that last for 12 hours—all with a subtle chocolate scent!
The retractable calligraphy tip allows for custom sized strokes from soft and thin to bold and wide for expertly filled-in brows. The spooley end blends to create natural looking hair.
Taupe
Soft Brown
Deep Brown
Auburn
Melted Matte – Limited Edition – $21.00
Wicked
Grannie Panties
Wine Not?
Suck It
Holy Chic!
Jawbreaker
Enjoy more photos…