Hello pretties!
Collistar Giardini Italiani Collection for spring summer 2017 is inspired by the Renaissance gardens, full of mazes, flower beds and bushes, where kings and princesses used to walk. A truly beautiful and romantic collection that I invite you to discover right after the jump.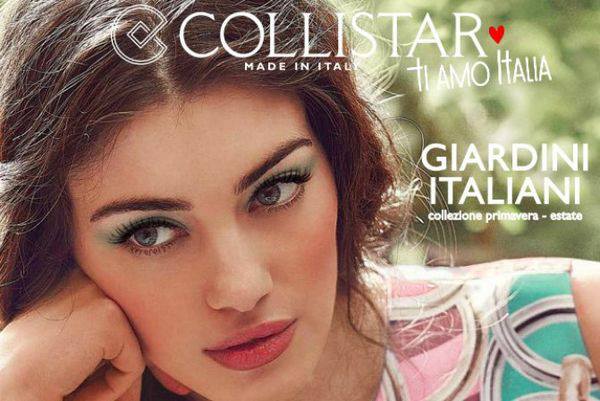 Availability
Europe Launch Date – Now at Sephora, @collistar.com | March 2017 for some other countries
Collistar Spring Summer 2017 Giardini Italiani Collection
Giardini Italiani Blush Eyeshadow Highlighter – Limited Edition – €29.80
A precious creation inspired by classic Italian Gardens, epitome of excellence, art and culture the world over. The charm and wonder of a magical garden enclosed in a palette of ultra-light powders as blush, eye shadow and highlighter. The skillful play of textures, pearly and silky, and the original combination of colours create different types of make-up, from the most romantic and natural to the most sophisticated and high-impact.
No.1 Bouquet Rosa
No.2 Bouquet Pesca
Giardini Italiani Silk Effect Maxi Blusher – Limited Edition – €30.00
New empathetic shades for the Silk Effect Maxi Blusher, that play with the volumes of the face and delicately highlight the complexion. Their secret lies in the ultramicronized powders, full of smooth but adaptable pigments, boosted with vitamin E and hyaluronic acid. The two colours are perfectly in keeping with this season's mood, which calls for a bonne mine effect for the cheeks that is imperceptibly bright.
No.21 Rosa Dorata
No.22 Rosewood
Double Effect Eyeshadow Wet & Dry – Limited Edition – €15.00
Our garden in full bloom simply had to have the most evocative names for the three new Double Effect Eye Shadow Wet&Dry colours. Satiny and bright thanks to the addition of a special micro-pearl, they can be used with a moistened applicator, to enhance the fullness of the colour, or dry for a more subtle effect.
No.31 Calla
No.32 Peach Blossom
No.33 Sage
Mascara Infinito Black Waterproof – Limited Edition – €23.90
The bestselling mascara, a product that does exactly what it says it does, for harmonious and beautiful eyes. The moment it is applied, the special high-precision elastomer applicator separates and thickens the lashes as much as possible, providing volume, definition and perfect curls. The result? Impeccable, long-lasting make-up and intense, full colour…intensely black.
Vibrazioni di Colore Lipstick Kit – Limited Edition – €20.90 (+ Free Smudge-Proof Transparent Lip Contour Pencil)
Two in one: Vibrazioni di Colore Lipstick + Smudge-Proof Transparent Lip Contour Pencil. The lipstick comes in four new colours, cherrywood, rosewood, begonia and cyclamen, which all have in common the chromatic intensity of a lipstick combined with the shine of a gloss. They are also smooth and long-tasting, and act as a treatment thanks to the presence of antioxidant and protective vitamin E, and hops, which provide fullness and volume. And there's the new Smudge-Proof Transparent Lip Contour Pencil, to be applied before the lipstick. An invaluable professional make-up tool that guarantees totally perfect make-up with no risk of smudging, and that visibly reduces small lines around the lips.
No.37 Cherrywood
No.38 Rosewood
No.39 Begonia
No.40 Cyclamen
Plumping Gloss – Limited Edition – €18.90
A little technological gem which, thanks to the addition of highly effective and functional concentrated substances, visibly plumps the lips, gradually making the mouth more voluminous and shaped. The finish? Bright and glossy, but not sparkling. The texture? Full-bodied, but light and smooth at the same time. The formula comprises an oligopeptide that stimulates collagen synthesis, an innovative plant collagen that makes the lips more voluminous and reshapes them day by day, and a blend of three plant waxes – mimosa, jojoba, and sunfl ower – that protect and moisturize. It also contains a delightful refreshing agent.
Nail Lacquer Natural Effect – Limited Edition – €7.00
When warmer weather arrives, this is how nails should be: sophisticated with light brushstrokes and a very glossy colour. These nails are in keeping with the upcoming fashion trends with five new pastel shades that recall very delicate springtime flowers, giving a sophisticated and very natural milky effect.
No.691 Lilly of the Valley
No.692 Magnolia
No.693 Begonia
No.694 Cyclamen
No.695 Bouganvillea
Enjoy more photos…