Hello beauties!
When I saw the new Too Faced Totally Cute Palette I knew right away that Too Faced Fall 2016 Collection will be fun and joyful, filled with vibrant shades, more like a summer collection I would say. Too Faced Fall 2016 Collection is available exclusively online starting today and next month at Sephora.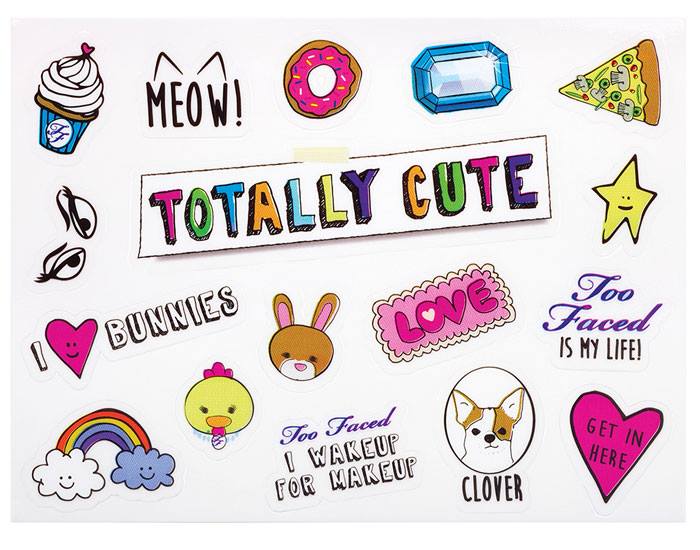 Availability
U.S. Launch Date – 15 June 2016 online @toofaced.com
Too Faced Fall 2016 Collection
Too Faced Totally Cute Eye Shadow Palette – New & Limited Edition – $36.00
It's a combo totally MFEO (made for each other, duh): Nine brand new highly pigmented shades in matte to shimmer finishes plus totally cute limited edition stickers to jazz up your palette! Everyday neutrals and bright pops of color allow you to create a look that's hashtag AMAZING!
Shades:
Double Scoop
Bunny Fu-Fu
Chocolate Donut
Shooting Star
Clover
Storm Cloud
Unicorn
I♥TF
Meow!
Born This Way Concealer – $28.00
Instantly hide imperfections, vanish the appearance of dark circles, and blur the look of lines and wrinkles for complete coverage so undetectable, they'll think you were Born This Way.
Shades:
Very Fair – pale with pink  undertones
Fair – light with pink undertones
Light – with golden undertones
Light Medium – medium with peach undertones
Medium – tan with golden undertones
Medium Tan – with pink undertones
Tan – with golden undertones
Deep Tan – with golden undertones
Dark – with golden undertones
Deep – with pink undertones
Lip Injection Glossy – $22.00
Go big and go bold! We've added an infusion of juicy lip color to our bestselling lip plumping formula. Lips come alive with more color, volume, and softness. Natural botanicals like avocado and jojoba oil smooth and moisturize for extra kissability and shine.
Shades:
Angel Kisses – pale pink
Milkshake – nude
Spice Girl – pink nude
Babe Alert – peach
Let's Flamingle – watermelon pink
Like a Boss – orchid
Sketch Marker – $20.00
Sketch Marker is an advanced liquid eyeliner inspired by Japanese Calligraphy Pens. Its formula acts as an artist's best drawing ink, created to be exceptionally smooth, vivid, waterproof and ideal for lining eyes. The flexible tip allows you to effortlessly create paintbrush-like strokes for daytime to dramatic cat eyes and everything in between. Available in a kaleidoscope of colors from soft pastels to bold pop art shades. Wear a single color or pair up to create a double eyeliner work of art.
Shades:
Deep Black
Charcoal Black
Deep Espresso
Smokey Emerald
Deep Navy
Steel Blue
Sky Blue
Deep Lilac
Candy Pink
Papaya Peach
Canary Yellow
Enjoy more photos…