Hello beauties!
I have for you today a sneak peek of Tom Ford Holiday 2018 Soleil Collection. I want to show you a first look at the new Tom Ford Winter 2018 Soleil Eye & Cheek Palette. The collection will be launching soon, but while we are waiting for the other items to be revealed we can enjoy this new release.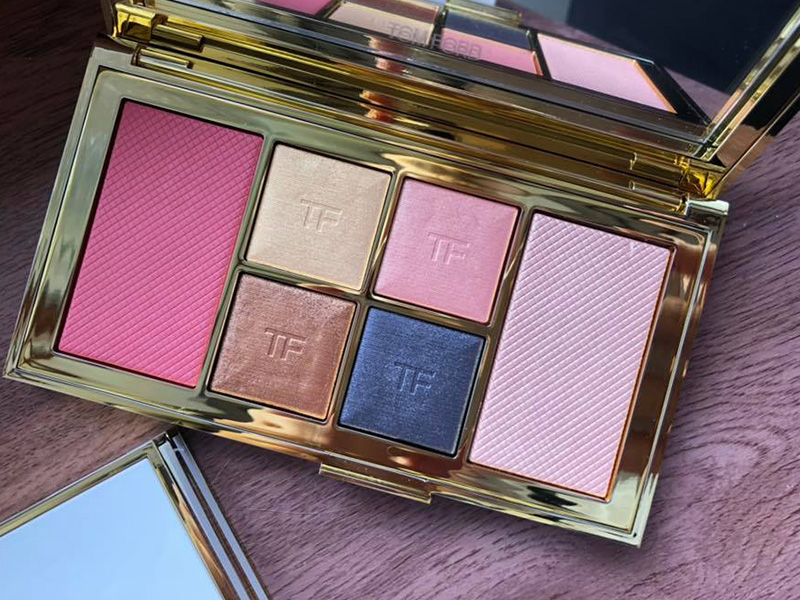 Availability
U.S. Launch Date – soon at Nordstrom
UK Launch Date – end October 2018 at Selfridges, Harrods
Tom Ford Holiday 2018 Soleil Eye & Cheek Palette
As I'm so much into pink shades, this new Tom Ford Holiday 2018 Soleil Eye & Cheek Palette is right up my alley. Well, I'm not so excited about the navy shade but I do like all the others. When I see a palette only in pink or purple shades for me is just pure heaven.
Some of you already expressed your opinion by commenting on my Instagram. So I totally understand that this palette may not be everyone's dream but is just a matter of preferences.
We have a pink  blush and very light baby pink highlighter. These will give a fresh look to your complexion. I don't have swatches yet, but I bet they'll complement nicely light and medium skin tones.
In the photos bellow there's the same palette, shot in a different light so the colors appear to have more like a warm tone. The lighter golden champagne shade I could see myself using it as a highlighter too.
Knowing me, I'll mostly likely abuse the pink eyeshadow as I like a fresh, girly girl look. 🙂 I can't wait to share with you the other pieces of Tom Ford Holiday 2018 Collection. Just make sure you follow me on Instagram and check my #instastories as well so you won't miss anything. 🙂