Hello beauties!
As you might know by now, at the beginning of this year I became a beauty tester for Swiss line luxury skincare brand and I'm really happy to be part of this program as I've been using their products for almost a year now and I got familiarized with their skincare collection. I want to give you a preview, kind of a first impression regarding Force Vitale Aqua Vitale Cream 24, a new product that is not yet available but it will be launched in the summer.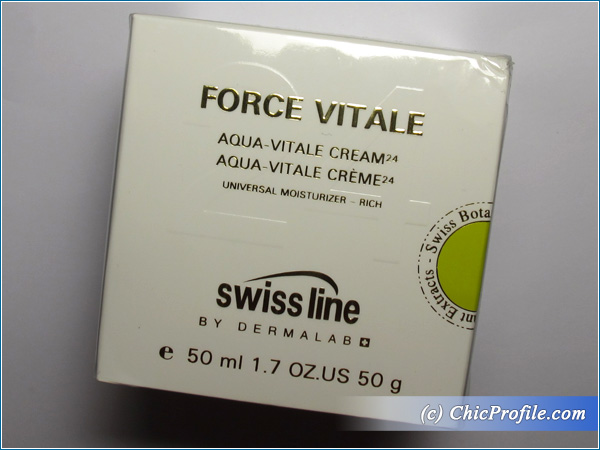 This moisture-surge cream deeply hydrates and nourishes the skin with 24 different nutrients, vitamins and antioxidants. Its unique soft-touch texture immediately replenishes the skin, toning and comforting it. Potent plant extracts, grown in the high altitude and the pure air of the Swiss mountains, together with different water-binding agents and energy boosters promote healthy, replenished skin. Film-forming elements, derived from dehydrated algae, literally transform the touch of the skin's surface and relieve discomfort originating from dryness and lack of elasticity.
Availability
International Launch Date – Summer 2014 (TBA the exact date)
As always Swiss line products come in luxurious packaging, very easy to open and use and this new face cream makes no exception. I got the full size Force Vitale Aqua Vitale Cream 24 which contains 50 ml/ 1.7 oz and I was really very excited to be able to test it before it will be released as I previously used Swiss Line Force Vitale Aqua Vitale Serum 24 (review, photos) and love it. The serum was a perfect match for my combination and sensitive skin type and my skin felt amazing while I used this product so I'm looking forward to see how the new Vitale Cream 24 will perform.
I usually like to use serums and lotions for my complexion but I do test face creams as well. I prefer a light texture that it is easily absorbed into the skin without leaving it greasy or oily.
I will be posting a full review of this product after one month of using it but now I can give you a first impression as I've been using it for two days already. It has a creamy rich text that glides easily on the skin but in my case it doesn't sink into the skin immediately and it makes my complexion especially T-zone look a bit shiny.
I used it only in the evening and in the morning when I woke up I noticed my forehead was looking oily while the rest of my T-zone was more than shiny. I will start using it in the morning as well to see how it performs during the day and if my complexion will still look shiny. It feels very hydrating so I believe those with dry and mature skin types could really love this cream.
It also has anti-aging properties and helps firms the skin and fights the lack of elasticity but I will tell you more about its long term effects after a couple of weeks.
Enjoy more photos…