Hello pretties!
SUQQU 2017 Christmas Makeup Kit PG is one of the two kits released last week as part of Suqqu Holiday 2017 Collection. There are also two limited shades of Eyeliner Liquid Pen Duo so check for more details in my previous article. I got my name of the wait list for Suqqu 2017 Christmas Makeup Kit PG as these sets were sold out by the next day. They will re-stock it for sure and I'll be at Suqqu counter later today for a makeup session so I'll keep you updated. For me this set was my favorite since it included pink and nude shades. I even like the pouch which shows white leather on one side and a pink velvet on the other.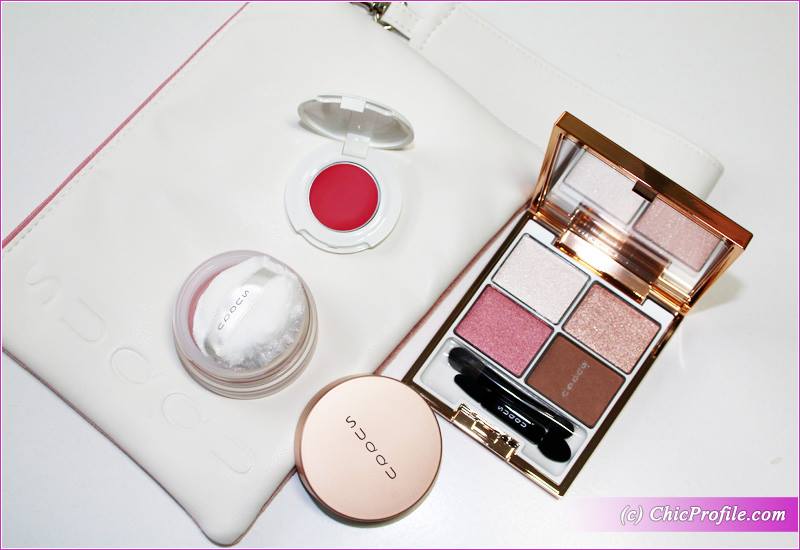 Availability
UK Launch Date – Now at Selfrdiges, Harrods
Suqqu 2017 Christmas Makeup Kit PG Review
Suqqu 2017 Christmas Makeup Kit PG (£65.00) includes and eyeshadow quad, lipstick and blusher. All these products are a limited edition release.
Designing Color Eyes (5.6 g/ 0.19 oz) palette comes in No.111 Kousetsuka and hosts four shades and two mini applicators. The compact looks very nice and luxurious with a white luscious top and a mirror inside. Each of the colors inside can be easily depotted and used in a magnetic palette. On the back of the palette there are four small holes in which you can insert a pink and make the eyeshows pop out.
I didn't even need to do that as I noticed the eyeshadows were not holding pretty well in the palette so I inserted a pointed tip next to the pan and they came out easily. They were glue to the palette, but not very well it seems since I noticed they were moving when I dipped by brush into them. But if you don't want to depot them you will have no problem with them falling out either. So far so good but I'll update this post later if any of them will try to fall out.
I like the combination of pink and nude shades and I find it suitable for my light skin tone. These are flattering shades that look very well for a day makeup look. They are not very intense or pigmented so they give you a softer look with a bit of shine.
The pink eyeshadow has a golden warm undertones and a satin finish. It has a good color payoff but without looking to intense of fully opaque on the lid. The texture is very soft and smooth without feeling dry. It applies wonderful, without any fall-out and it's easily blendable. I had around eight hours wear with this color.
The white eyeshadow is a light, pure white with pearl and satin finish. It has a good color payoff with a very soft and almost buttery-like texture. It applies wonderful and illuminates the eyes. I use it on the inner corner of the lid or on my brow bone. It works wonderful as a highlighter as well. It is easily blendable, no fall-out during the application and the formula doesn't feel dry at all. The color wore well for eight hours.
The brown Suqqu eyeshadow is a light chocolate brown with warm undertones and mostly a matte finish. The Suqqu logo is an overspray so once I swatch it, instantly disappeared. It has a good color payoff, but looks mostly on the softer side. It applies well, adheres well onto the lid even without an eyeshadow primer. The texture is very soft and smooth without kicking off excess powder in the a pan when I pick it up on my brush. It is a wonderful shade to work with, it can be buildable and intensified for a more opaque coverage. I had around eight hours wear.
The top right eyeshadow is a medium peachy-brown with warm undertones, gold pearl and satin finish. It has a great color payoff, being easily buildable to a full coverage. The formula is very soft and buttery and applies well even on bare skin. I applied this shade even with my fingers on the center of the lid for a pop of luminosity. All the colors can be applied with the fingers as well and they adhere so well onto the skin. This one was easily blendable, didn't feel dry and lasted beautifully for eight hours.
Moisture Rich Lipstick (1.2 g / 0.04 oz) comes in the color No.104 Botanzome. I'm not very keen on this type of packaging as I need to apply the color with a brush or with my fingers. In both cases I find that this is a product that I can use only when I'm at home or before going out and not put it in my bag. I'm very strict about hygiene and I like my lip products to come out of a tube. I absolutely love my Zelens lip balm but I only use it at home for the same reasons.
When a lip color comes in this type of packaging tends to be a little messy. I actually got some product on the sides of the little white compact. The packaging is cute nonetheless and easy to store. I used my fingers to apply this shade. Is a light rose with a natural sheen. It has a semi-sheer coverage with a non sticky feeling. I see it more like a colorful lip balm rather than a lipstick. It doesn't give me the feeling that I'm applying a lipstick. I have to dip my finger several times into the pan to pick up the color. It will change your natural lip color just a bit but don't except too much pigmentation.
This lipstick is more like a nice hue with a moisturizing feel and a natural shine. It gives my lips a healthy and fresh look, something that I would wear on a casual day. I wasn't able to build up the color too much. I just think is meant to look natural even though from the pan you might expect something different.
It feels very comfortable on the lips but it doesn't last long. Once I had a bite to eat the color wasn't there anymore. As I said, it gives me the feeling that I'm wearing more a lip balm rather than a lipstick. It is moderately moisturizing and wears for almost 3 hours on me.
Powder Loose Blush (2.7 g / 0.09 oz) comes in No.101 Yukibudou shade. It is a light rosy pink with slightly cool undertones and a semi-matte finish. The pigmentation is good but comes very light on the skin. For me this color is wonderful, the light pigmentation is great. You can definitely build up the color by adding 2 or 3 more layers but is not meant to look very intense. I like the fact that it gives your cheeks a natural pop of color while still keeping things on the softer side.
I really don't know how this shade will look on darker skin tones as it would require a more intense color and this is not the case. It gives just a rosy flush of color to the cheeks. The blush comes with a powder puff so you can easily pick up the product and pat it on your cheeks. Again, I'm not a fan of this type of blusher, loose powders are not very practical to me. I guess I'm more used to compact blushers, especially when I travel. I still would see myself using this one as the powder puff makes things easily for the application.
It doesn't emphasizes my pores and complements really well my skin tone.
You can see me wearing the new eyeshadows on this Instagram photo. You will see they don't look to intense or too pigmented on me. They are perfect for a day time makeup look.