Hello beauties!
Even though summer has already settled comfortably here for a while there's still a long way to go until my summer holiday. I don't wanna wait that long until I'll get a beautiful beachy tan so St Moriz self tanning products came in my life at a perfect timing. At the beginning of this week I had the pleasure of getting St Moriz Self Tanning Lotion and Mist, both in the Medium shade so I used them right away. I have a light skin so sunbeds are really not an option for me as my skin is very sensitive and even though I gave them more than one try a couple of years ago, I didn't like the sensation I had afterwards, the smell of my skin and not to mention the small moles that started appearing on my body a couple of days later. With these being said I knew I had to look for a safer option in order to get that beautiful chocolaty skin so St Moriz products with olive milk and vitamin E tempted me right from the start.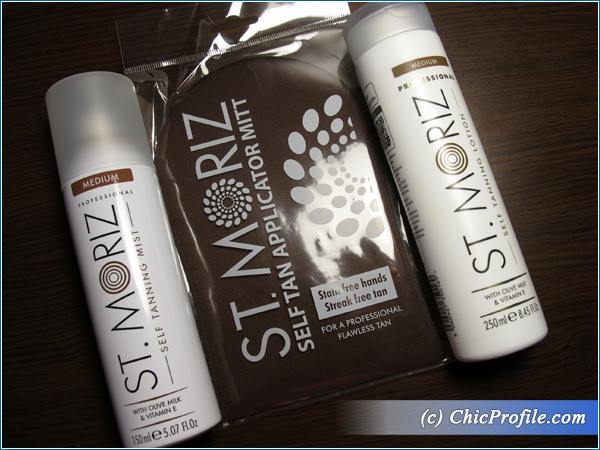 Availability
Romania – Now online @vok.ro
U.S. – Now at ULTA, Amazon, @feelunique.com
I'll be reviewing each of these products separately in the days to come but I just couldn't wait to share with you the news about these self tanning products.
I used both the lotion and mist again today for the second time this week and I'm quite impressed with them and the natural golden tan that I got.
St. Moriz Instant Self Tanning Lotion Medium (39.95 Ron / $12.99 for 250 ml/ 8.45 fl oz) contains a blend of active tanning agents who work their magic to leave you with a golden, natural looking tan.
St Moriz Instant Self Tanning Mist Medium (39.95 Ron / $12.99 for 150 ml/ 5.07 fl oz) is a light mist that dries out quickly and applies with ease.
There are a couple of steps that you should do to ensure a perfect tan before using any of these products so I advise you shouldn't skip them especially if you have a dry skin.
You should start by exfoliating your skin using St Moriz Exfoliant Body or any other body scrub that you have at home while after you should apply a body cream, lotion or buddy butter to hydrate your skin especially those dry areas like your knees, elbows, ankles and feet. I have a good skin condition and I prefer using a light body lotion that will get easily absorbed into the skin without leaving any oiliness behind. I used my favorite La Mer Reparative Body Lotion (review, photos) which hydrates the skin instantly and doesn't require a daily application. After I gave a couple of minutes to the lotion to get absorbed I finally started the self tanning process.
You should always apply the products using St Moriz glove or any of those bath gloves that you can find in the supermarket at the bath&body sector.
I like applying St Moriz Self Tanning Mist on my legs by spraying them from a 15-30 cm distance and then gently massage them with the glove, spreading the product evenly and making sure I bend my knees and elbows so I'll avoid any lines.
I prefer using St Moriz Self Tanning Lotion on the rest of my body but also on my face by mixing it with my daily moisturizer. I apply it all over my complexion, ears and neck and gently blended into my hairs so I will not have that mask effect afterwards. I used to apply a bit more of this lotion on my complexion as the tan will fade more quickly since I'm doing my skincare routine two times a day.
The tan will work its magic within 4-6 hours and until then you must avoid water contact, sweating or applying any other product on your skin. After this time is important that you take a shower with warm water to eliminate that extra tan and get that even color but don't use any soap or shampoo when you rinse.
When I first used these products I was actually a little bit scared that I will probably look too dark, too orange or even worst, be left with uneven skin color and white lines in some part of my body. Don't you worry if after you've applied the mist, foam or lotion you won't have an instant evenly color as this will get fixed after you'll take that shower a couple of hours later. The tan excess will be eliminated with warm water and you'll be left with a beautiful glowing natural tan.
The secret is to wait a couple of minutes (3 or 4) before the mist and lotion dry and then get dressed. They don't stain the clothes or sheets, as I personally didn't get any stains and I actually put a white towel on my chair and stayed naked 🙂 for a couple of minutes just to tested and see if it will be safe in the future to get dressed so fast. Not even my sheets were stained so this is actually a comforting sign.
I'll be posting more details about these products by the end of next week and show you some before and after photos.
Enjoy….