Hello babes!
Apart from its Spring 2017 Play Date Collection (info, photos), Shu Uemura launched new products at the beginning of this month in Asia. I'm talking about the new range of lipsticks, Rouge Unlimited Supreme Matte with a comfort matte sensation, the kind of colors that you can dare to wear everyday, along with Lasting Soft Gel Pencil.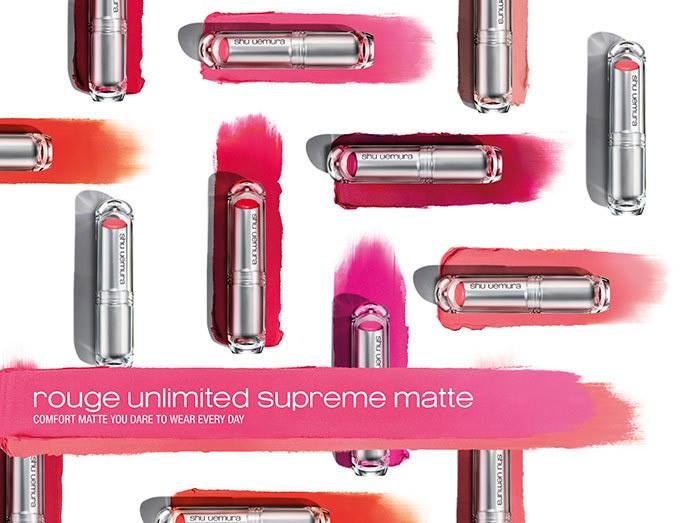 Availability
Japan Launch Date – 1 February 2017
U.S. Launch Date – Now @shuuemura-usa.com
Shu Uemura Spring 2017 Rouge Unlimited Supreme Matte, Lasting Soft Gel Pencil
The new super-matte lipstick is the perfect combination of extreme matte and ultimate comfort with moisturizing ingredients to deliver the smoothest matte finish with all-day comfort. The unique creamy texture is available in 15 wearable shades perfect for many occasions! In Asia the range is available in 24 shades.
WN 227
WN 245
WN 266
WN 285
RD 156
RD 144 Work-Aka-Holic
RD 187
CR 334
PK 354 Ocha Pink
OR 530
OR 550 Yo-Yogi Orange
CR 345
CR344 Cat Sweet Coral
BG 934
BG 943
PK 375 Pony's Choice (Asia Exclusive)
Lasting Soft Gel Pencil – New Shades
Shu Uemura introduces four new black shades:
Navy
Green
Purple
Nearly Black
The liner's pen tip is 1.5 mm, ultra fine and precise tip for a smooth drawing comfort.
Enjoy more photos…