Hello babes!
Here's a first look at Shu Uemura Holiday 2016 Collection of makeup and skincare goodies. This collection was inspired by Takashi Murakami Flower that symbolizes love, hope and peace and represents the world of poetry and magic, loved by so many people. This time the flower is the image of a figure blooming in the night sky, and the new items bring out the women's beauty.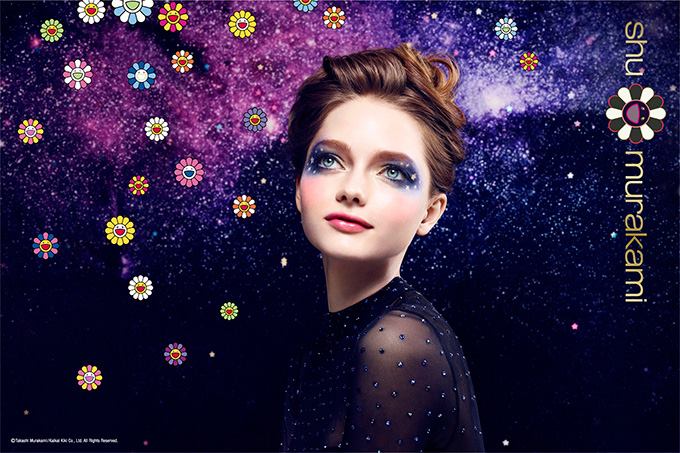 Availability
Japan Launch Date – 1 November 2016 (First Part) | 16 November 2016 (Second Part)
Shu Uemura Cosmic Blossom Holiday 2016 Collection
Shu Uemura Burankuroma Blossom Inn Cushion Compact Foundation
Shu Uemura Christmas Palette Kit
Includes: Flower Palette, Eye Pencil, Cleansing Oil (sample size), Black Bag
Shu Uemura Christmas Foundation Kit
Includes: Foundation Compact, Mini Size Liquid Rouge, Travel Size of Cleansing Oil, Flower Makeup Bag
Shu Uemura Rouge Unlimited
Available in 2 limited edition shades:
Shu Uemura Rouge Unlimited Sheer Shine
Available in three limited edition colors.
Cosmic Blossom Eye & Cheek Palette – Limited Edition

Available in two different color combinations.
Blossom Nova Eye Trio – Limited Edition
There will be two combinations, one with purple shades the other one with orange.
Shu Uemura Murakami Drawing Pencil
Available in 4 shades: Brown, Black, Purple, Blue
Block Booster Protective Moisture Primer SPF 50
Two different colors.
Cosmic Black Premium Eyelash Curler
Moisturizing Lip Balm
Cosmic Blossom Premium Brush Set
Radiant Cleansing Oil – Limited Edition
Available as 450 ml and 150 ml
Enjoy more photos…