Hello beauties!
I was telling you the other day about my current obsession with Urban Decay Vice Lipsticks and I promised a new post where I'll show what else I purchased earlier this week from Sephora. I've been on a shopping spree for the past two weeks, getting a lot of makeup items…actually a lot of lip products and I'm almost finished with my wishlist but I still need something from Giorgio Armani (yeah those Lip Magnets). Stopping by Sephora I got three lipsticks, two of them in hot pink shades and one in a super cool metallic brown.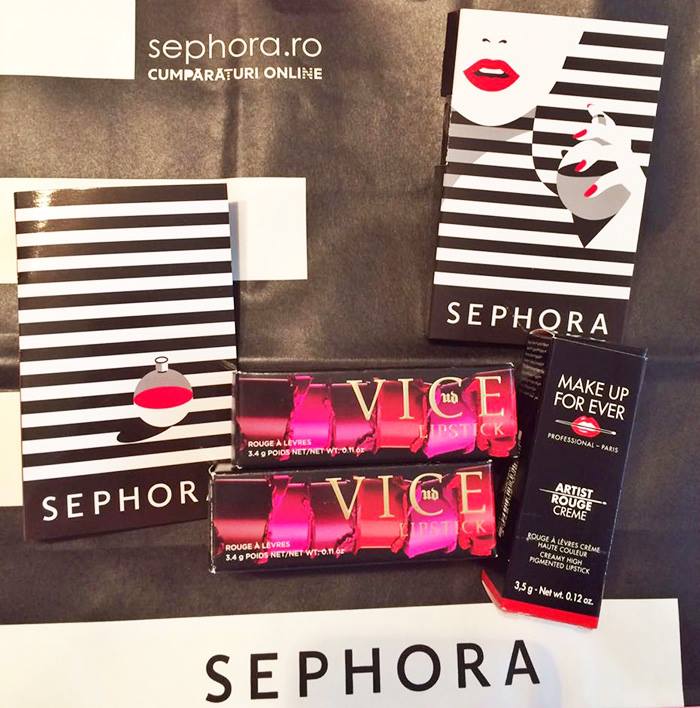 Where to buy:
Romania – Now at Sephora
Shopping for Urban Decay and Make Up For Ever at Sephora
You heard me so many times talking about the Vice Lipsticks (98.00 Lei / $17.00) that I'm going to keep quiet until I'll post individual reviews. I'm just gonna say that I had my fair share with matte finish lipsticks so I bought Anarchy which has a creamy formula and looks amazingly close to Firebird (also a cream) when swatched  and Conspiracy with a metallized finished which seems to be one of the best selling shades here in Romania.
Another lipstick I wanted badly in my collection for weeks now was Make Up For Ever Artist Rouge Creme in C206, which I've swatched on a previous visit at Sephora. So, I was determined to cross off C206 of my wishlist but when I saw and swatched C207 I had a change of heard. Thing is that at the previous Sephora counter they had only a few shades of MUFE Artist Rouge Lipstick (108 Lei) so I wasn't able to see this gorgeous C207 shades. I guess different counters, different or more shades and it all depends on how fast they sold out.
I'll be back with individual reviews for all of these shades in the upcoming days. Actually I was wearing today Anarchy and C207 (one at the time) and they both reminded me why I'm so damn in love with pink lips all the time.
Enjoy more photos (taken with my iPhone) …