Hello beauties!
I've been postponing this article for almost two months, the only reason being the lack of time. I know I've been driving you crazy over the past few months with Guerlain La Petite Robe Noire Makeup Collection (swatches, photos) and you've already picked up on the fact that I'm absolutely in love with it. So even though I swatched and reviewed the entire Guerlain La Petite Robe Noire Lipstick Collection (video with some of the shades) in the tester packaging I wanted to purchase some of the colors just to have them in the original, gorgeous La Petite Robe Noire packaging. I would have bought more lipstick shades but not all of them are available here in Romania, especially some of the violet ones.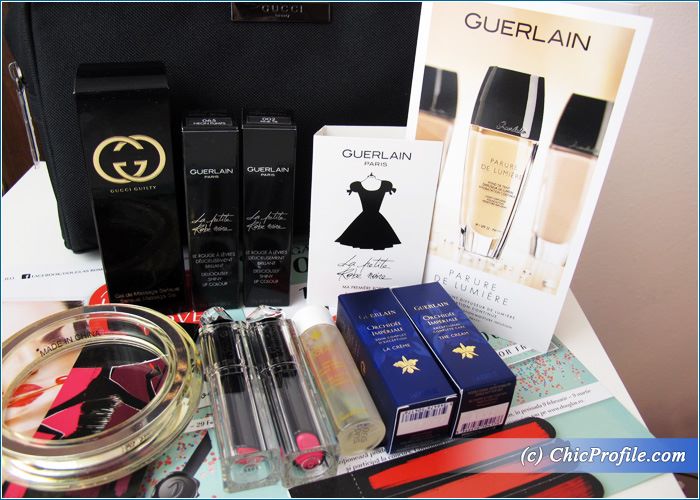 On a casual weekend day, I headed over Douglas Perfumery to take advantage of my 15% off Douglas Card and check out some of the beauty items on my list. Mainly I headed over to Douglas for Guerlain La Petite Robe Noire lipsticks (145.00 Lei / £21.50 / €29.50 for 2.8 g / 0.09 oz but I also got my go-to tonic lotion that I've been using for years, which is Clinique No.2 Clarifying Lotion which they have it in a 487 ml / 16.5 fl oz bottle.
I spent quite some time in front of Guerlain counter chatting with the nice Guerlain Beauty Advisor about makeup and Guerlain's best selling items and time flew away so fast. She was more than nice in showing me all the newness and talk me through some of Guerlain's new skincare items that I can really say it was one of the most pleasant shopping experiences I had when shopping in Romania. With my Guerlain purchase I also received for testing quite a few products but the most exciting one for me was, a deluxe sample of the new Guerlain Abeille Royale Lotion (info, photos) which I've been using for the past few weeks.
I also got two samples of Guerlain Orchidee Imperiale The Cream (3 ml / 0.10 fl oz) which I've also been using for over 2 weeks now. There's enough product in these samples to allow me to form an opinion either I do like this product or not and if I want to go along and purchase the full size. I knew about the amazing effects of Guerlain Orchidee Imperiale skincare and while I've been using The Cream only as a night cream I started to see the first signs and improvements in my skin quality, tone and how signs of aging are slowly starting to fade away. I do admit this cream would be a little bit to rich for me (I'm a combination sensitive skin type) so I wouldn't using it during the day, but as a night cream works just perfect and gives me the well needed hydration, while it keeps away the signs of aging.
With the purchase of Guerlain La Petite Robe Noire lipsticks or nail polishes you would have also got the complementary gift of 3 mini La Petite Robe Noire nail files, like I did, but I do admit I still find them to cute to use them. Probably I will file my nails with them but I just want to keep them untouched for a little bit longer. They have the perfect travel size so I will probably take one of them with me when I'll travel.
Some of the other samples where Guerlain La Petite Robe Noire Eau de Parfum and Guerlain Parure de Lumiere Light-Diffusing Foundation which I happily enjoyed.
Along with my Guerlain and Clinique purchases, Douglas also offered me a black Gucci makeup bag along with a Gucci Guilty Sensual Massage Gel (30 ml / 1.0 fl oz) which smells absolutely divine and I like to apply it on my skin after I shower so the scent will linger on my skin for hours.
The golden, transparent Azzaro bracelet was also a nice surprise that I found inside my Douglas bag along with the other products.
I really enjoyed shopping at Douglas that day and I remembered how often I did choose this beauty store for shopping when I was in Germany or Austria as they always gave me so many samples and products to try out, but they also had so nice and well prepared beauty advisors that could easily walk you through any brand and help you choose the right products.
I'm going back to Douglas this weekend as well but concerning Guerlain, I'm preparing my wallet for some skincare shopping of Aqua Vitale range and Abeille Royale at the end of the month.
Enjoy more photos…