Hello beauties!
Last week I planned on going on a shopping spree at ParkLake Mall for some NYX Cosmetics goodies (look at my purchase), some skincare essentials and new makeup products. I love shopping at Douglas! It's actually my favorite store when it comes to beauty purchases and this feeling goes way back, more than ten years ago when I was to travel abroad quite often (especially in Germany) for a good shopping session. I also have a discount card and they always come up with great offerings, not to mention they offer impressive GwP and a variety of samples to try out at home even though I buy only one product.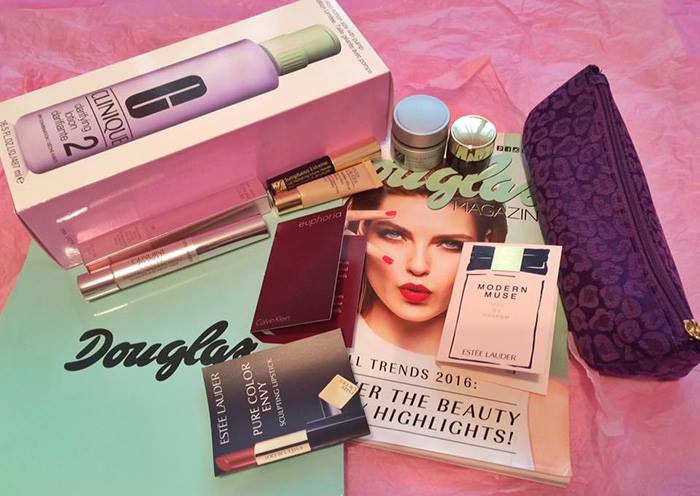 Where to buy:
Romania – Now at Douglas perfumeries
This time I was actually entering Douglas to get new shades of Lancome L'Absolu Rouge, which I absolutely adore, and for my all time favorite Clinique Clarifying Lotion No.2. I'm telling you this lotion has been part of my beauty routine for over 10 years and I always come back to it. It's true that as a blogger I get to test all kind of tonic lotions, but this one from Clinique is always part of my collection.
I like shopping at Douglas for this particular tonic lotion as they always have it in the limited edition size with a pump which offers 487 ml / 16.5 fl oz for 169.00 Lei (don't forget the 20% discount if you are a Douglas card owner). I did owned it in all the sizes, even the cute travel size bottle (60 ml / .2 fl oz) which comes with me whenever I travel, but I always preferred the bottle with the pump. It's so practical and easy to use, offers the best price and lasts me for about 10 months when I'm using it twice a day (sometimes I catch my boyfriend using it as well).
Unfortunately, Douglas didn't have the new Lancome L'Absolu Rouge on the counters (don't worry I went back for it this week) but they having a great promotion for Estee Lauder products. With any Estee Lauder purchase (skincare, perfume, makeup…you name it) you would get a Gift with Purchase. That really sounded interesting but since I've already tried most of Estee Lauder skincare (remember I went on an Estee Lauder shopping spree last year in London) and still have a couple of deluxe samples, I said I would pick something from the makeup sector.
I quickly remembered Estee Lauder Genuine Glow Collection (info, photos) I blogged about in early summer and since it finally made its way to Romania, I though I would give it a try. So I choose Eyelighting Creme for Eyes and Face (3.2 ml / .11 fl oz for 115.00 Lei / $20.00) in 01 Gleam Glow. It comes available in three shades actually but the lightest one definitely suited me. It's a multi purpose product, that can be used onto lids, cheeks and brow for precise pops of light and water-fresh washes of sheer color. It blends seamlessly and ads a beautiful and fresh wash of color. I can't wait to put it to good use as I've read so many positive reviews about it.
So, by buying an Estee Lauder product (no matter the price) I got this super Gift with Purchase which actually contains Estee Lauder products known to me (except one) that are still part of my makeup and skincare collection. Here's what I got:
Re-Nutriv Ultimate Lift Age-Correcting Cream in Deluxe Size of 15 ml / 0.5 fl oz (I haven't used this before…so it's new entry for me)
Advanced Night Repair Eye Synchronized Complex II in Deluxe Size of 5 ml / .17 fl oz (I actually finished using the 2 deluxe samples I had this spring. Good experience but I wanted a cream that could do more for my eyes).
Stay-in-Place Makeup SPF 10 of 7 ml / .24 fl oz (The shade is Pebble and quite a good match for my skin color)
Sumptuous Extreme Lash Multiplying Volume Mascara as a deluxe sample size of 2.8 ml / .1 oz (I actually got this one several times in both full size and travel size, as it is one of my all-time favorite mascaras. I'm currently using the full size version)
Pure Color Envy Sculpting Lipstick  in Rebellious Rose (sample size)
Modern Muse Eau de Parfum (1.5 ml / .05 oz)
The photos for this article were taken with my iPhone so please excuse the low quality…