Hello beauties!
Shiseido UV Protective Compact Foundation is a product that I wore a couple of times last summer but unfortunately only now I got the time to review it. I purchase this product myself earlier this year and seeing the SPF 30 and knowing that compact foundations are recommended for combination skin types like mine, I gave it a try. It's available in a range of 9 shades and the one I got is Medium Ivory a shade that looked good on me when I had tan skin but which is definitely too dark now when the tan has gone.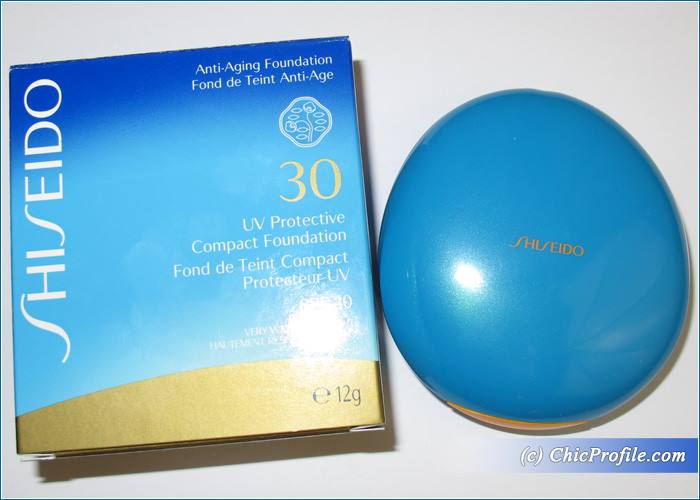 Availability
Now at Nordstrom, Sephora and online @shiseido.com
Shiseido UV Protective Compact Foundation SPF 30 ($28.00 for 0.42 oz / 12 g) is a powdery foundation that offers a beautiful natural coverage and an optimal broad spectrum sunscreen. It's recommended by the Skin Cancer Foundation as an effective UV sunscreen so this surely must mean something to you.
It comes in this blue summery travel-perfect plastic compact which makes it the perfect travel friendly foundation for your summer holidays. I absolutely adore the fact that the sponge is in a separate compartment so the powder foundation won't get ruined and it's more hygienic like this. The sponge has a very good quality, being thick and easy to use, allowing to apply and blend the product with ease and also seems very durable.
It has a smooth silky texture that glides well onto wet or dry skin and delivers a matte natural finish. Thanks to its SPF 30, Shiseido compact foundation protect skin from sun damage but also from external aggressors such as UV rays and dryness. It's resistant to water and sebum so that is what everyone is looking for in a foundation during the summer or if you are living in hot humid area.
The case is sold separately and the refill includes a sponge so once you hit the pan on your Shiseido Compact Foundation you can just ask for the refill.
Enjoy more photos…