Hello beauties!
Lash month I had the privilege of participating to the official opening of the first Shiseido Spa in Romania, which is also the first one in Eastern Europe. Starting this year, the Romanians can access the facilities and services of the new Shiseido Spa hosted by Stejarii Country Club, located in the heart of Baneasa forest near Bucharest.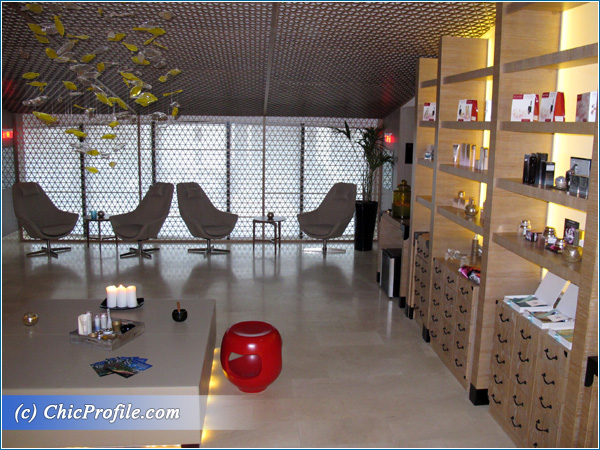 I took a tour of the entire spa and before you can check out the photos bellow let me tell you that here you can spent an entire day relaxing and enjoying SPA treatments in individual rooms, or for couples or spending time by the vitality pool and relaxation areas, hammam, sauna and steam rooms, as well as 360 beauty services ensured by Beauty District.
Shiseido Spa includes 7 individual multi-purpose therapy spaces, 2 scrubbing wet rooms, indoor relaxation pool with bubble-jet lounge chairs, pool relaxation space, sauna, steam room, hammam. I saved the best for last, which is the amazing VIP day suite with an incredible view to the forest. You can spend your your day here (or just a couple of hours) relaxing along with your partner or friends as the VIP suite includes double jacuzzi, double therapy space, private bathroom and showers, deep relaxation day bed (I've tried it and it feels dreamy), champagne bar, open fire place and a private sun terrace.
At the Shiseido Spa you will find all the Shiseido makeup, skincare and body products (some of them available exclusively to the Spa) available for purchase. The center also developed care services and spaces especially designed for men so you can bring your partner or friends anytime and enjoy the spa treatments together. Along with the facilities, Shiseido Spa provides welness services like Pilates Reformer, Speed Fitness, Yoga and a Beauty District salon.
You can choose between the facial treatments like perfect purifying, hydration, luminosity & brightness, the ultimate skin renewal, rejuvenate & firm which can take up to 1 h and 30 minutes or if you don't have that much time on your hands you can get a Shiseido facial express in 30 minutes. The products used for these facial treatments are selected from Shiseido Future Solution LX Collection (info/ photos). Your complexion will feel amazing, more toned, wrinkles visible diminished after using the new Shiseido Pure Retinol Express Smoothing Eye Mask (info/ photos).
As I said earlier Shiseido Spa also offers facial treatments for men such as hydration, soothe & comfort and anti-ageing but also new massages techniques right from Japan. Either if you choose a luxurious moisture, total body replenishment, beautifully fragrant skin, relieved tired muscles or any of the 9 types of body massages you will have to be prepared to spend between 45 minutes and 2 hours in one of the Japanese inspired Spa rooms where you will be spoiled from beginning to end with traditional Spa Japanese rituals. My favorite room was Sakura, a beautiful but small pink massage room with a pleasant ambient.
Everything about Shiseido Spa is luxury, well being, pure relaxation and quality treatments. You have to check out their relaxation room with water beds , a totally unique concept here in Romania. As much as I would wish to disclose more details I hope I've made you curious enough to pay a visit to this amazing place if you are in Bucharest. If you shall need any guidance or have unanswered questions you can also access www.sterjariispa.ro.
Enjoy more photos…