Hello beauties!
I met Rouge Bunny Rouge Original Skin Primer in Genesis about a month ago right before Christmas when I received a package from Rouge Bunny Rouge with new makeup products for spring 2014 (preview, photos & swatches). I've been using the new Original Skin Primer for about 3 weeks now so keep on reading if you want to know what my skin feels about it.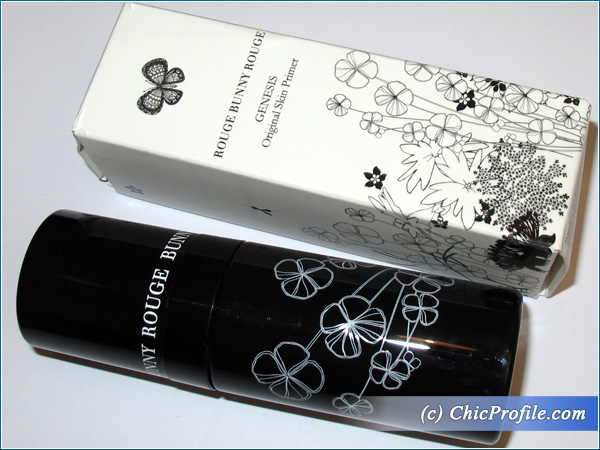 Availability
Now @rougebunnyrouge.com
Rouge Bunny Rouge Genesis Original Skin Primer ( €43.00 for 33.5ml / 1.13 fl oz) is a totally different skin primer than everything I've tested and used so far. Starting with the packaging, a black opaque bottle with a pump which has a simple yet interesting flower design, it's very easy to use and hold and the only disadvantage here is that you can't see how much product is left inside as you normally do with semi transparent primer bottles.
Moving on to the texture of Genesis Original Skin Primer, my skin was impressed right from the start because this primer has a white opaque color and a velvety creamy texture. The consistency is thick, creamy like, almost like an emulsion and it glides easily on the skin filling in wrinkles, fine lines and smoothing pores while giving the skin a soft, smooth and pearly matte finish. This is one ideal face primer especially for those with an oily complexion as it has sebum-absorbing properties but also for those with mature skin as you can feel the light creamy formula gently filling in wrinkles and skin imperfections while preparing your complexion for the application of concealer and foundation.
It really helps smoothing out wrinkles, fine lines and any imperfections and it will be suitable even for those with sensitive skin, acne or scars as it preps the skin by gently layering a flawless canvas that feels smooth and soft to the touch. I used it even on those days when I had a small breakout on my cheek and near my lip and I loved how it was able to smooth everything out and I felt like I rubbed pearls into my skin.
After you cleansed your face and applied RBR Genesis Original Skin Primer I advise you to wait a couple of minutes before layering your foundation and applying your concealer, to prevent it from looking shiny. I'm honestly telling you there have been days when I just didn't feel the need to apply anything on top of this primer because my complexion was  looking incredible well, healthy and bright, with a matte effect which lasted for hours, so I skipped the foundation and applied a very thin layer of setting loose powder. I have a combination skin type and I'm always concerned with shine and pores but since I've been using this product my foundation long lasting power has improved and my complexion begins to show sheen after 5 hours.
RBR Original Skin Primer in Genesis feels so lightweight on the skin while it brightens it up a little and makes it look fresh and bright, probably also because of the white opaque color it has. It does a really great job reducing pores and shine while the latest generation of silicones ensures exceptional long wear.
I've used this primer with several foundations like, Senna Lasting Illusion Satin Matte Foundation, Shiseido Sheer and Perfect Foundation, Max Factor Face Finity 3 in 1 Foundation but also with BB and CC Cream and they all lasted longer while my complexion remained matte for about 5 hours and after started to reveal an easy seen but not the oily complexion I usually had after 4-5 hours.
A little goes a long way with Original Skin Primer so I need less than a pump to apply and spread it all over my complexion starting from the center and working my way out to cheeks, forehead and temples. You can use a brush if you like but I prefer using my fingers as I feel it warms up the product and it makes it glide easily and evenly on the skin.
Enjoy more photos…