Hello beauties!
Rouge Bunny Rouge presents Fragrant Confections Collection for spring summer 2014 featuring Allegria, a green floral woody fragrance and Muse with floral woody cedarwood accords.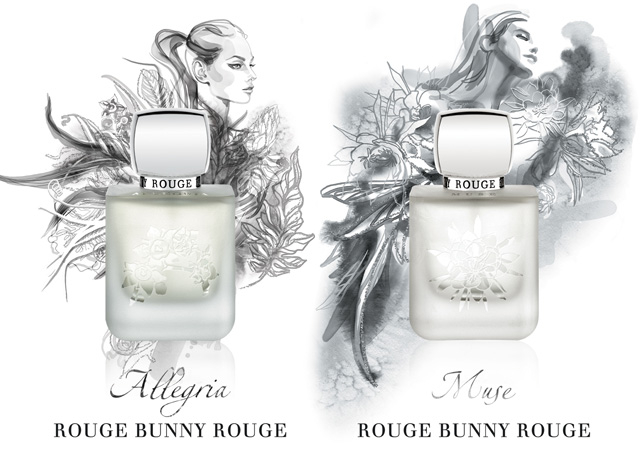 Availability
Now @rougebunnyrouge.com
Rouge Bunny Rouge Fragrant Confections Collection 2014
Allegria Fragrance – New – €97.00 for 50ml / 1.69 fl oz
"Nature. The lush feel of leaves and moss, like the endless mossy lands of Kyoto."
If while you slept the indigenous plants, leaves prickling with fervour, grew to a gargantuan size, then Allegria is the conduit that would wake you. Its vital scent that's lightly vegetal and slightly smoky, instantly sweeps the senses on a roller-coaster of giant stems, plunging and twisting across an Edenic landscape. Fuelled by lush greenery, this ecstatic aroma transforms all that was once black and white into vivid colour.
In this botanical haven, sugared citrus fruits in a delectable blend of sweet and sour saturate the air. Fresh and juicy sparkles encase sunshine in every crystal drop. This aromatic appeal of all things delicious and crisp is as if the natural world is embracing the skin, the subsiding tide of sappy-green giving way to feelings of happy solace. The sharp freshness of manicured plants and the warm overtones of golden flowers, enrich with a resounding depth. In a concluding flood, rich, metallic tones, lustrous like the glare of light hitting steel, provide an unexpected warmth and strength, the immovable struts on which Allegria performs with the excited energ y of a much-loved big dipper.
Top Notes – Bergamot, Sour Orange, Grapefruit, Passion Fruit
Heart Notes – Blackcurrant Leaf, Mint Nanah (Natural Orpur), Basil, Buchu, Eucalyptus, Mimosa Absolute
Base Notes – Cedarwood, Dry Amber, Moss, Musk, Hawthorn, Tonka Bean (Natural Orpur)
Muse Fragrance – New – €97.00 for 50ml / 1.69 fl oz
"Contrast between the sensuality and femininity of jasmine and the dark & addictive woody ambery back notes."
Release Muse on the skin and be instantly drawn to an assured aura. Infused with magnetism, its luminescence has the seductive pull of a moth to the flame. A crescendo of silky-scented notes is poised to reveal an earthy eroticism with the charismatic wiles of a forbidden flower. In enticing whisperings, the airy touch of fruity sweetness barely contains a jasmine accord, so deeply sensual, it's more suggestive of artful potion than perfume. Exotic notes proudly bloom, fluctuating from light to dark, held hostage by the grounding effect of moss and musk. This symphony of creamy florals reaching out from resinous woods, in a relationship as undeniable as a lover's clinch, keeps you locked in the heart of Muse forever. These epic notes, full of irresistible allure, inspire devotion from those who at once feel the alliance of this scent with their natural femininity. While Muse's strange animalic tones make others hesitate to identify so readily, yet feel compelled by its unforgettable, uninhibited approach and obvious powers of attraction.
Top Notes – Bergamot, Freesia, Gardenia, Green Leaves
Heart Notes – Jasmine Absolute, Jasmin Sambac, Labdanum, Moss
Base – Musk, Amber Gris, Cedarwood, Agarwood
Enjoy more photos…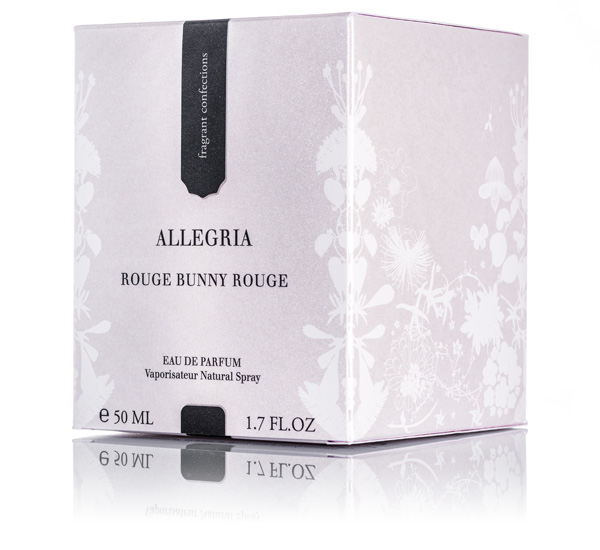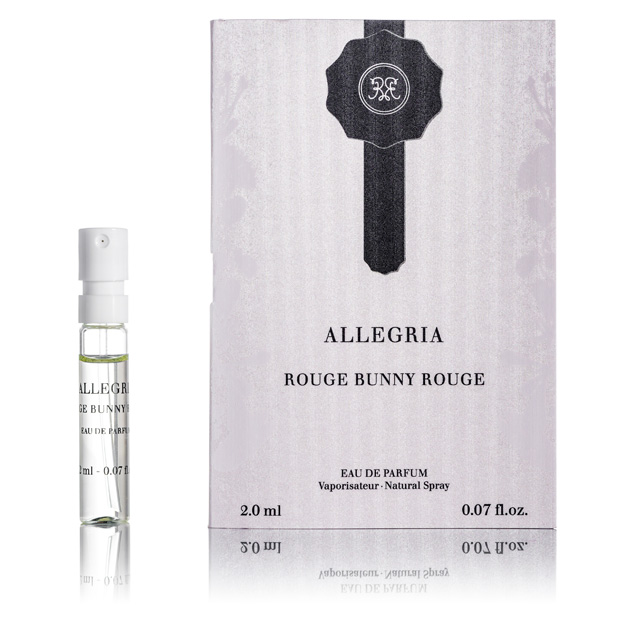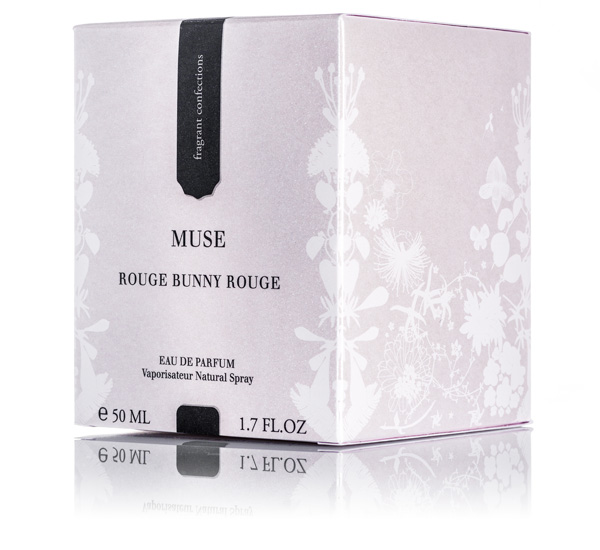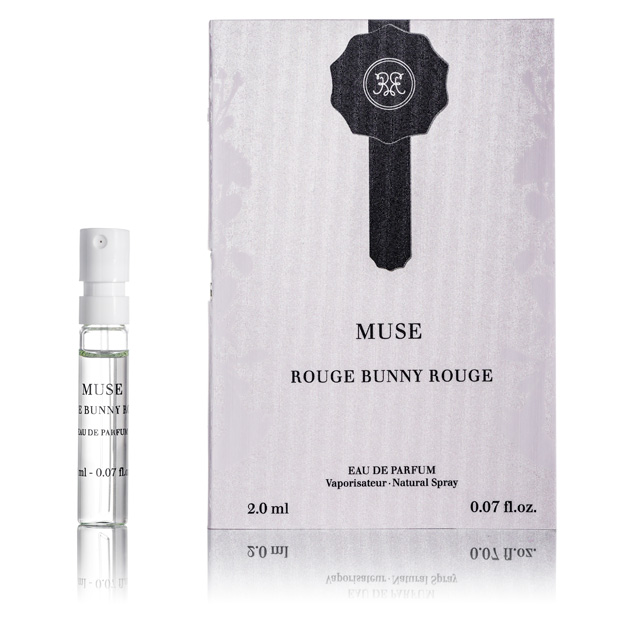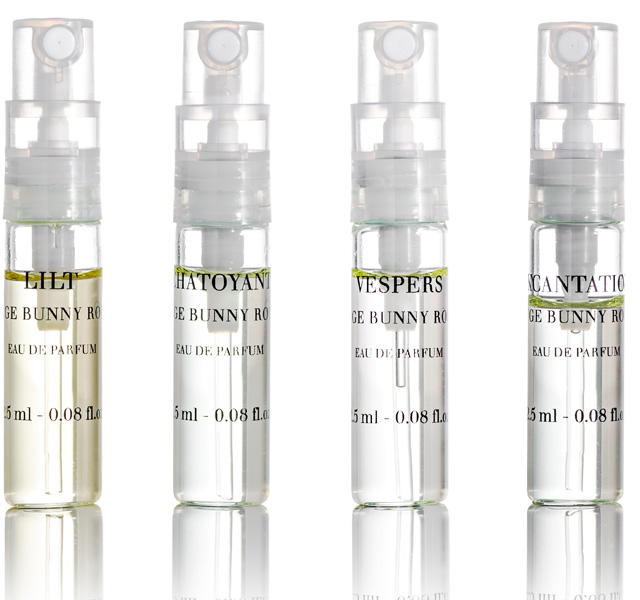 These new fragrances seem to smell so fresh and perfect for spring and summer with their floral accords. Are you going to pick up any of these?