Hello beauties!
Rouge Bunny Rouge Discovery Coffret Fragrance Sampling Set contains seven classic Eau de Parfum sampling size recipients from the Fragrance Confections and Provenance Tales Collections. This is a great chance to try and test these fragrances if you haven't had the chance yet or you can see it as a travel-friendly fragrance set, especially now when everyone is enjoying their summer holiday. I always have difficulties in choosing what perfumes I should bring with me whenever I travel, as the full size bottles take up too much space in my luggage as I want to have at least 3 perfumes, so this RBR fragrance sampling set could be the perfect solution. You'll be able to enjoy the scent of 7 fragrance in svelte 2 ml / 0.07 fl oz spray vials.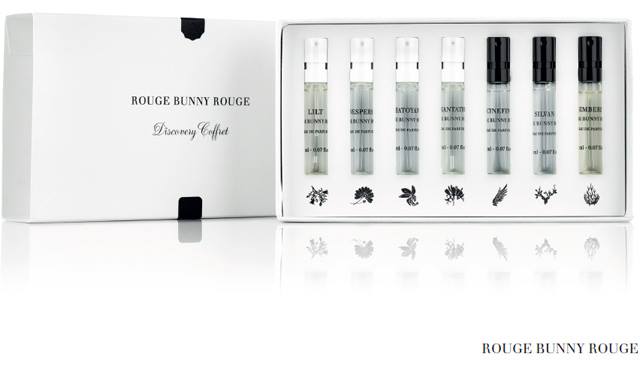 Availability
International Launch Date – Now online @rougebunnyrouge.com
RBR Discovery Coffret Fragrance Sampling Set
CHATOYANT
Fine-spun lemon in bergamot bubbles, flashes of citrus and coconut tones, Orchid has arrived with
hints of jasmine, lily and rose. Meet Orchid, the temperamental feline of the botanical world, and
find your senses purring with delight. Olfactive family: Oriental Woody Amber. Perfumer: Francis Deleamont
Top notes: Bergamot, Lemon
Heart: Orchid, Jasmine, Rose, Lily of the Valley
Base: Sandalwood, Cedarwood, Musk, Vanilla
INCANTATION
Blackcurrant, mint and spices, fanned by giant fig leaves, precede the spellbinding dance of silky rose
and vetiver. Succumb to the call of this fragrant enchantress and swathe the skin in a darkly divine,
aromatic adornment. Olfactive family: Green Fruity Woody. Perfumer: Nadège Le Garlantezec.
Top notes: Citrus accord, Blackcurrants, Fig leaves, Green tea
Heart: Rose, Orange blossom, Coriander, Cardamom
Base: Vetiver, Cedarwood, Beeswax, Musk
LILT
Be seduced by fig leaves, peach and coco, layered with frosted violets, overgrown with bitter green and bound by smoky vetiver. Find yourself in a stormravaged garden where these elegant prismatic notes flit from sunlight to shade. Olfactive family: Green Fruity Musky. Perfumer: Shyamala Maisondieu
Top notes: Green Leaf Accord, Fig Leaf
Heart: Peach, Coco, Violet
Base: Vetiver, Musk
VESPERS
Rose, muguet and violet light the shadows of black pepper's cool corridors awash with crushed
leaves, cinnamon and apple. Follow diaphanous wisps of sweet woods through a canopy of perfumed
blossoms. Olfactive family: Woody Spicy Floral. Perfumer: Sonia Constant
Top notes: Bergamot, Cinnamon Bark, Violet Leaves, Black Pepper
Heart: Green Apple, Muguet, Rose, Violet
Base: Cedarwood, Musk, Sandalwood, Vanilla
CYNEFIN
Davana and angelica create an effervescent wave of delight as earthy, ambery, woody tones infuse a
masculine edge. Through all the notes comes the fizz and hiss of escaping lavender-vapour. Bring joy
to the senses and draw back the veil of the everyday with just one lively spritz. Olfactive family: Floral Ambery. Perfumer: Shyamala Maisondieu.
Top Notes: Floralozone, Angelica Seeds, Davana
Heart: Lavender Oil Orpur, Violet Leaves Abs Orpur, Muguet
Base: Musks (Velvione, Moxalone), Amber, Metallic Wood
EMBERS
Pink pepper, nutmeg and clove in a harmony of hot and cold spices are gently stoked by trails of
incense, rich resins, balms and woods. Rouse this modern oriental with the skin's heat and see how
it renews from what it once was to even brighter flame. Olfactive family: Oriental Ambery. Perfumer: Shyamala Maisondieu
Top notes: Pink Pepper, Nutmeg, Clove
Heart: Freesia, Jasmine, Cistus, Incense
Base: Styrax, Peru Balsam, Sandalwood
SILVAN
Juniper and grapefruit, in a cool, composed and sparkling opening, transcend deep layers of guaiac
wood, incense, black pepper and patchouli. Cloak the skin in a perfect harmony of citrus and woods
infused with the forest's air of wisdom and calm. Olfactive family: Woody Spicy Musky. Perfumer: Jacques Huclier.
Top notes: Grapefruit, Juniper Berry, Pepper
Heart: Incense, Guaiac Wood
Base: Cedarwood, Musk, Patchouli
Enjoy…