Hello beauties!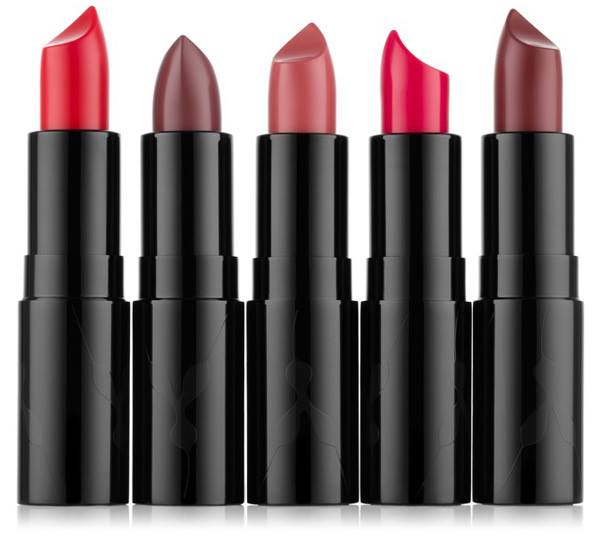 This season Rouge Bunny Rouge reinvents some of its makeup products for spring 2015, changing their formulas and texture and also introducing new shades. Take a closer look at the new Rouge Bunny Rouge lip products but also at the two new Eye Khol shades that just arrived.
Availability
International Launch Date – Now online @rougebunnyrouge.com (international shipping)
Rouge Bunny Rouge Sheer Lipstick – €28.00 / £20.79
Now the bestselling RBR lipstick shades have a new texture and formula while keeping a sheer, glossy finish with anti-aging and lip modelling properties. The new formula is infused with plant-based active ingredients for intensive lip care.
Shades:
Jasmine-weighted Air – true purplish red fuchsia

Murmurings – cool damson, like having just eaten a bowl of cherries

 Musings – natural pinky rose

Perfume of His Gaze – cool toned rose taupe (Review)
Relish of Heaven – scarlet red
Rouge Bunny Rouge Colour Burst Lipstick – €28.00 / £20.79
The five best-selling colors are now being reformulated for spring 2015 and they come with a new texture and new active ingredients. With an even more radiant finish and anti-aging lip modelling properties the new formula is infused with plant-derived active ingredients for intensive lip care.
Shades:
Irreverence – natural rosy pink

Raw Silence – cool true red – Best Screen Siren red

The Plot Thickens – satin-finish pale rosy nude-beige

Whim of Mine – elegant raspberry ripple pink – Suits all skin tones

Word of Mouth – cool cherry syrup – The little black dress of lipsticks, very pretty and feminine
Rouge Bunny Rouge Kiss Elixir – €23.00 / £17.08
The new unique rich expert balm has been reinvented for spring 2015 in a new balming formula infused with Sweet Almond Oil, Argan Oil, Shea Butter, Aloe Extract.
Rouge Bunny Rouge Eye Khol Feline Gaze – €25.00 / £18.56
New matt finish with a satin-like texture. They glide smoothly across the lid, being easily blendable and with a waterproof formula.
Shades:
Eve – delicate brown (Matte) (New)
Lilith – timeless grey (Matte) (New)
Calypso – creamy metallic golden moss (Leaving Range)
Lola (review) – creamy metallic dark ash brown, with slight copper overtones (Leaving Range)
Delilah – semi-matte aubergine, with a plum lustre
Salome – perfect creamy matte jet black
Selene – lustrous deep pine green, with a suggestion of teal
Vera – creamy frosted blue-violet iris with a coal-dust colour base
Enjoy more photos…