Hello beauties!
This month Revlon was relaunched in Romania and it was my pleasure to take you with me at the beauty event as I broadcasted the whole thing on Periscope (replay on Youtube). The brand is already famous for its Revlon Colorstay Foundation which is the best drugstore foundation I ever tried and the entire Colorstay makeup line deserves your attention. Revlon #530 Seductive ColorStay 16-Hour Eyeshadow is a quadra eyeshadow palette which offers a combination of four shades of different finishes and it's part of Revlon permanent collection.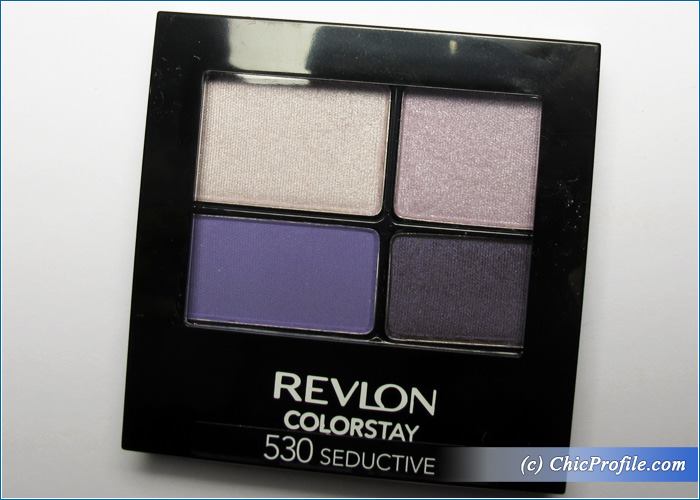 Availability
Romania – Now at Kendra
U.S. – Now at ULTA and online @revlon.com
Revlon Seductive ColorStay 16-Hour Eye Shadow Quad ($4.80 for 4.8 g/ 0.16 oz) features four cool toned lilac and purple shades with frosty and matte finishes. It comes in a square plastic black case with a transparent top as a lid that snaps shut.
You can mix and match the colors as you prefer and I personally love playing with purples as they emphasize my green eyes, not to mention is an appropriate fall makeup look. Revlon describes its eyeshadows as having a 16 hour wear, while the formula is silky smooth and it won't crease, fade or smudge throughout the day.
Revlon Seductive #01 is a very light silver rose with cool tone and a frosty finish. It has a sheer color payoff, it does look a bit washed out on the lid and being the lightest color of the palette I like to wear it on my brow bone or on the inner corner or my lid to create luminosity. It doesn't adhere well onto the skin but it blends easily and without any fall out. The formula is smooth but I find it a bit powdery. I had about 10 hours wear without creasing, smudging but it didn't totally gave me that 16 hour wear without fading.
Revlon Seductive #02 is very light cool toned lilac with silver shimmer. It has light color coverage, looking semi-sheer when is applied without an eyeshadow primer. It has a smooth, silky formula (definitely better than shade #01) that blends well, without any fall-out. I had 12 hours wear with this formula before I noticed the color started to fade.
Revlon Seductive #03 is a cool toned medium dark purple with a matte finish. It has a medium color coverage with a formula that doesn't adhere quite well onto the skin if you are not using an eyeshaow primer. This is the only matte color of this palette and I prefer to apply it on the lid or blended in the crease. The formula is powdery and a bit dry, even though it blends well. It's just a soft purple perfect for an everyday makeup look. I had about 12 hours wear with this formula.
Revlon Seductive #04 is a cool toned dark grey-plum with a frosty finish. This is the darkest color of the quad and the one with the best formula as it has a good color payoff even when it's applied without an eyeshadow primer. It has a smooth silky formula, that is easy to blend and work with and also adheres better onto the skin. I had more than 12 hours wear of this shade before I noticed the color fading a bit.
Enjoy more photos…