Hello beauties!
Revlon PhotoReady BB Cream is not a new release but it's new for me as only recently I had the chance to try it, as Revlon was relaunched in Romania (video). Revlon PhotoReady BB Cream is available in 3 shades: 010 Light, 020 Light/ Medium and 030 Medium which is the shade I got along with other new Revlon makeup products (video, swatches).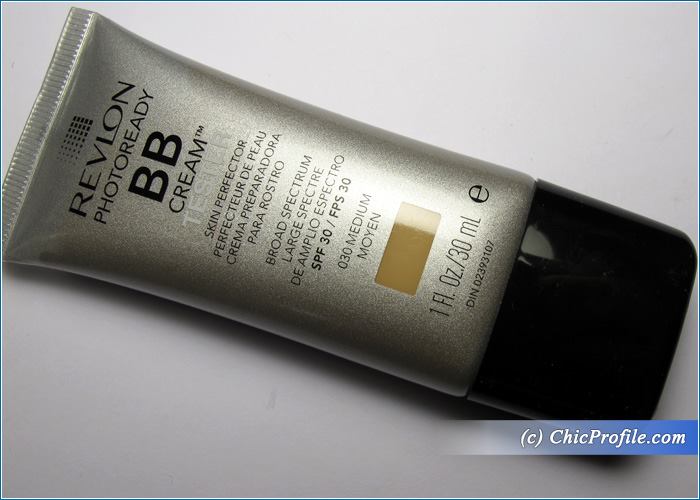 Revlon describes this product as a lightweight, multi-benefit Beauty Balm that combines skincare, makeup and sunscreen in one step. It hydrates like a moisturizer, smoothes like a primer, covers like a foundation, blurs flaws like concealer and protects with SPF 30 like sunscreen. After testing and wearing this BB Cream for a few times, I'm ready to share with you my thoughts.
Availability
International – Now at local drugstores and online @revlon.com
Romania – Now at Kendra perfumeries
Revlon PhotoReady BB Cream 030 Medium ($12.00 for 30 ml/ 1.o fl oz) is the darkest shade available and unfortunately it's too dark for me as you can see here in my makeup tutorial. Because the shade didn't match my skin tone I only wore it 3 times so I could test its formula, long-lasting effect and see how it behaves on my sensitive combination skin type.
It has a medium-thick creamy consistency with a formula that glides and blends easily on the skin. It evens out your skin tone and since I'm blessed with a clear skin (rarely I have pimples or breakouts) I don't need a full coverage product. I find it to have a more light natural coverage rather than a medium one and if you don't have any skin problems you should be OK with it, otherwise I wouldn't count on this product to cover your skin imperfections if you wear it on its own.
The formula is very hydrating, feels like a moisturizer and it's so lightweight on the skin. It has SPF 30 so it's definitely a great option to replace it with your foundation especially during the summer. This shade gave me a bit of an orange tint as you can see in the photo bellow so I would have felt more comfortable wearing the lightest shade.
I'm reviewing this product from my combination skin type perspective and I have to say it was just not the product for me. I would definitely recommend Revlon PhotoReady BB Cream to those with normal or dry skin types so if you are oily or combination skin you should definitely keep away. I'm saying this not because I have something against its formula or the color didn't suit me but because my complexion turned out to be oily within 2 hours. I mean not shiny, not a hint of sheen on my T-zone that could have been blotted with a paper, but pure oiliness all over my complexion that was an obvious "we don't match" relationship. It's fragrance free, it sets pretty fast without being sticky or anything.
It gives a dewy luminous finish which should be more appreciated by those with dry skin. It reflects light and covers your skin with a luminous veil.
The packaging is quite simple and easy to use, as the product comes in this squeezable plastic tube. I like that it has a small transparent colorbar in the middle so you can actually see the shade.
I had about 5 hours wear with this formula and I found that this BB Cream didn't hold its coverage and it made me look oiliness. If you are looking for something that will quickly even out your skin tone then you should go for it but again if you are combination to oily skin type then don't count on this product for more than 2 hours, otherwise your are good to go.
Enjoy more photos…