Hello beauties!
Revlon Colorstay Makeup Foundation has been for years America's most-loved longwear foundation and also awarded by beauty bloggers as the best drugstore foundation with a medium-full coverage. This year it returns with a new formula, a convenient pump applicator and SPF. The foundation is still available in two combinations, for normal / dry and combination /oily so I got the try the second one and I'll be telling you how I feel about it.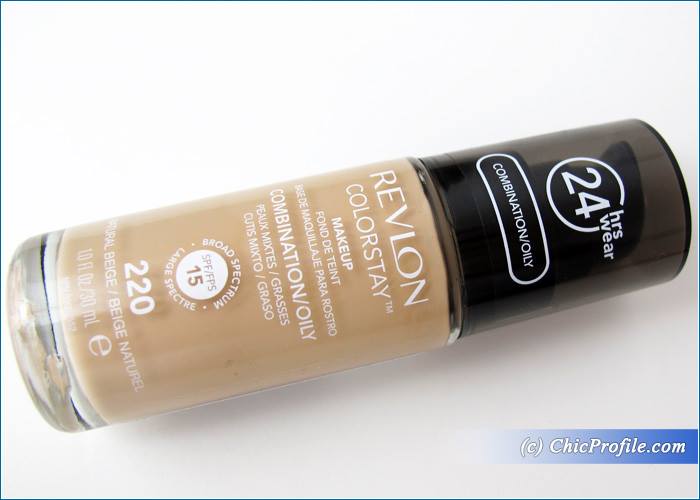 Where to buy:
Romania – Now at Kendra, DM, Prestige Boutique and online @boutique-produsecosmetice.ro
International – DM, Boots, Superdrug, local drugstores and @revlon.com
Revlon Colorstay Makeup SPF 15 (65.00 Lei for 30 ml / 1.0 fl oz) comes in variation of 20 shades and the one I got is No.220 Natural Beige which is suitable for those with a light skin tone.There's been a week since I've been playing, testing and wearing this foundation so I'm ready to give you a detailed review. I will mention that I'll come back to using Revlon Colorstay Makeup later in the summer when those hot days will be upon us just to see how it will perform and I'll make sure to update the article.
It's the type of foundation that gives you a medium, easily buildable up to a full color coverage. I've always been into more sheer and natural coverage foundations as I'm not struggling with any skincare problems and I always preferred that second skin look.
Revlon Colorstay Makeup foundation comes in a creamy but fluid formula, not so liquidy as the previous version, but it does feel so much more lightweight and comfortable on the skin. Compared to the previous version when you had to shake up the bottle to mix the product before the application now everything it's so much more easier when the bottle comes with a pump.
For me one and half pump is enough to ensure a full application. The formula glides on smoothly, covering skin imperfections, redness and evens out your skin tone. I couldn't help noticing that the formula feels so much more comfortable on the skin, as with the previous one I always had that feeling that I was wearing a mask on my face.
I usually prefer using my fingers when I apply the foundation, but there are times when I use a beauty blender which in this case will ensure a more natural effect then when applied with a brush. It gives a medium color coverage but as I said earlier you can easily build it up to the point of full coverage if you want to conceal any skin imperfections.
In my case I hardly need a medium coverage foundation so with Revlon Colorstay Makeup I feel like it's the kind of product that I'll use rarely, probably on those occasions when seasons change and my skin starts misbehaving or when there will be days when a nasty pimple will appear and I will need that extra coverage.
At this point for me is 50% love with this product and that's because it gives such a nice perfect matte finish which combination and oily skin types will definitely appreciate, but also because it has such a comfortable and long lasting formula. It goes on from morning till evening without fading from my face and I barely see a shine on my T-zone after 6 hours. I'm always keeping bloating papers in my bag when I'm away so I can remove any shine but with this foundation it was hardly the case. It does a great job when it comes to keep the oiliness under control so I'm pretty happy about that…just have to wait for the summer to come and see how it will perform then.
The other 50% that didn't made me love this foundation are due to the high coverage this foundation provides. As in my case there's no need for such a high coverage I really don't like the aspect of a powdery looking complexion and when people start noticing that I'm wearing quite a bit of foundation.
The funny thing was that everytime I was wearing this foundation, people notice and even asked why I changed my foundation as this one doesn't really look too natural on me. I mean it's not like I was wearing a mask on my face but at the same time it just didn't look very natural, very luminous or like a second skin effect. For me a much lighter cover is enough and I prefer to use the right concealer to cover my dark circles when it's the case or conceal any blemishes. I still like a sense of transparency when it comes to a foundation.
If you don't mind a full coverage foundation then I would say just go for it, otherwise you might wanna try a lighter version.
I'm curious to know if you've tried this one already and what are your thoughts!  Please let me know!
Enjoy more photos…