Hello beauties!
Pat McGrath Skin Fetish Highlighter & Balm Duo is mother's cult-covetable backstage secret and now comes in three shades. This dual-ended, jumbo-sized stick features a cream-based highlighter and a glossy balm. This product was created for those who want a veil of sinfully sublime luminosity.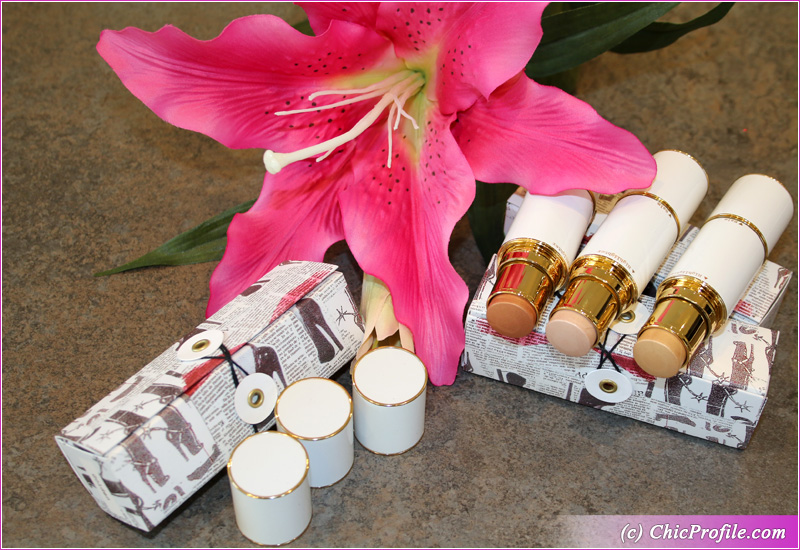 Where to buy:
U.S. / UK / International – Now at Pat McGrath, SEPHORA, Net-a-Porter
Pat McGrath Skin Fetish Highlighter & Balm Duo Review
Pat McGrath Skin Fetish Highlighter & Balm Duo ($48.00 for 0.33 oz.) features a creamy highlighter with a pearly finish and a translucent lip balm. All of the 3 shades, nude, gold and bronze are suitable for every skin color. If you want a sublime shine, something that is not very intense and pigmented then you'll definitely enjoy these highlighters.
As you know, I do tend to wear more luminous, glitter free and not so intense highlighters on a daily basis. There are rare occasions when I reach for something very intense and that's usually when I have to wear makeup on the second part of the day.
The idea of a highlighter stick expresses to me more of a subtle sheen, natural glow and fresh look. I like to wear these type of highlighters and creamy products for natural and luminous glow without any foundation apply. So I put this Skin Fetish Highlighter & Balm Duo to the test in different situations, both of bare skin and over foundation.
I like the effect of both of these three shades and even the Bronze one which is the darkest is wearable on my skin tone. You can layer them as much as you want, turn on that intensity, play with them in different ways.
The best results I had with this product were when I applied it on bare skin. Over foundation it was harder to apply it and blend it due to its creamy consistency that tended to move the foundation a bit.
I still stubborn and wore it on top of my foundation several times. Let me tell you how I made it work. Use your fingertips to apply the highlighter on your cheekbones, center of eyelid, brow bone, bridge of nose or cupid's bow. It will look lovely applied and blended on your shoulders and decolletage. The key is to use your fingers to apply it, gently pat it and press it onto your skin and use a dampened makeup sponge to blend. This way the product didn't move around.
If you are wearing a full coverage foundation and you like a full face makeup, contouring, highlighting, powder, bronzer and so on, you'd better skip this product. It is only for those occasions when you want to go lighter on your makeup and use it a multi-purpose product.
On bare skin it works like a charm, either if you swipe directly from the stick or use your fingertips to apply it. You can use a stippling motion to build intensity and circular motions to blend. I personally love to use my dampened beauty blender.
If you want to apply it over a full coverage foundation and straight from the tube, it will tend to look patchy and gather product around.
Another way to wear this product is by applying each end of the stick separately for a sensual gleam. If you want more intensity then mix the balm with the highlighter and you will get more of that runway radiance.
All the colors blended easily, applied evenly and wore well for almost 8 hours on me. After 8 hours the color starts to fade away noticeably.
Pat McGrath Skin Fetish Highlighter & Balm Duo Shade by Shade Review
Nude Highlighter is light nude champagne with slightly warm undertones and a pearl, metallic finish. It had a good color payoff with a smooth and creamy formula. The coverage can be built up to a full coverage in 2-3 layers, but you really want a softer effect out of this highlighter. The consistency feels creamy and emollient with a little bit of slip to it.
It gives a subtle sheen, dewy finish and luminosity without looking to intense or bright on the skin. I just loooove wearing this shade on bare skin. For me the effect it shows on my bare skin is just perfect. This is the shade that I tend to wear over foundation and complexion products sometimes. I want to achieve that effortless luminous complexion. 🙂
I had around seven and a half hours wear. It doesn't emphasize my skin texture or pores.
Gold Highlighter is a light gold with warm undertones and a pearl, metallic finish. It has a medium coverage which can be easily buildable. It has the same creamy consistency that applies on evenly and glides easily across the skin.
The effect is soft, sublime luminosity and effortless natural look. It can be the ideal highlighter for those who like a wash of gold luminosity without a very intense effect. I had around eight hours wear with this formula.
Bronze Highlighter is a light golden-copper with warm undertones and a pearl finish. It has a semi-sheer coverage which can be buildable in several layers. The consistency is very light and emollient which makes it look semi-sheer when blend it. While the texture appears firm in the tube is harder to apply it over complexion products.
It gives a subtle, dewy sheen and and more of a semi-sheer coverage when blended. It was never marketed as a pigmented, intense highlighter so I have to say it does exactly what is suppose to do. Over foundation and wore alone, without the balm, I had around eight hours wear. Applied on bare skin, since I have combo skin, it tends to wear off on me after six hours.
Clear (Balm) is transparent balm with an emollient texture and a glossy finish. The consistency has a lot of slip to it but surprisingly it didn't move my foundation around. It gives a wet, glossy shine effect to the skin which wears well for around six hours.
Considering the product is not described as long-lasting I was happy with the six hours wear. It definitely performs better on bare skin as it can't turn patchy. It doesn't emphasize skin texture but I personally like to wear it on the cheekbones only layered with the highlighter. Otherwise on its own I apply it on my lips, cupid's bow, decolletage.
These products were sent to me in PR so I encourage you to check out other reviews and swatches. If you trust my recommendations and reviews, feel free to purchase them online!
SHOP THIS POST