Hello sweeties!
Last week I went to Oud Milano store to check for new products, when I stumble upon Oud Milano Via Della Seta Collection. Via della Seta Collection for Fall 2017 is inspired by the textures and colors of the Silk Road. Check out my Instagram Video for a closer look at this new range of products. After you've seen the products is one of two ways. Either is love at first sight, like it was for me, or this kinda of packaging is too much for you. I have to say the packaging is what got my attention right from the start. I mean is hard not to be impressed by the mirror-like packaging, golden touches and not to mention the shades.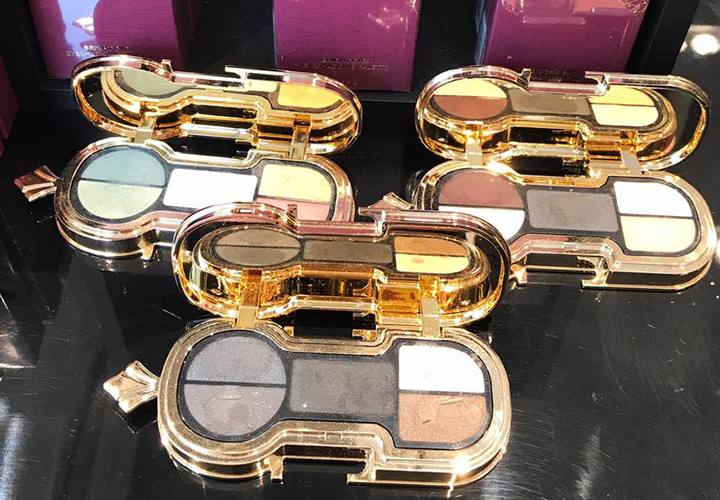 Once I arrived to the store I started swatching almost every product from Oud Milano Via Della Seta range. Everything is limited edition so you have to go and check it out if you are in London. Those lipsticks are totally worth it! The prices though are leaning towards luxury area is the are between £23.00 to £71.00. I'm guessing the fancy and glamorous packaging had increased the prices as the permanent range is still affordable.
Availability
UK Launch Date – Now at Oud Milano Store on 353 Oxford Street
Oud Milano Via Della Seta Fall 2017 Collection
The Via Della Seta range draws inspiration from the cultural heritage, wealth of color and beauty secrets picked up along the ancient trade routes from East to West – the Silk Road. Celebrating the rich and diverse notions of beauty from these contrasting regions, Via Della Seta, reflects the vivid colors of Indian spice markets; the textures and hues of Eastern silks; the dramatic, smoky eyes of the Orient to create a luxurious selection of aspirational beauty products.
Truth be told, I haven't been impressed by the packaging of an entire collection in a long, long time. Now, let's move on to the products but remember that you have LIVE SWATCHES on my Instagram.
Oud Milano Demi Matte Lipstick – Limited Edition – £43.00
Available in a range of 16 shades of deep pinks, dramatic reds and rusty browns. Oud Milano Demi Matte Lipsticks are highly-pigmented to provide long-lasting and creamy colour to the lips for a dramatic result. I swatched all 16 shades and I was really impressed by their pigmentation. The colors are so vibrant and payoff is amazing. I even liked how they apply and some of them stain as well. You have LIVE SWATCHES on this Instagram Video. If you are curious about the lipstick packaging check out this video (+more swatches). If they weren't so expensive I'd have definitely got a few shades.
Bright Eyes Mono Eyeshadow – Limited Edition – £32.00
These richly pigmented powders come in 12 bright and vibrant colors, that offer a flawless finish. The Mono Eyeshadows are presented in beautiful gold compacts in the shapes of O,U & D. Again you have LIVE SWATCHES of Oud Milano Mono Eyeshadows for a better look. The colors have different finishes from satin to metallic. I wouldn't say they are extremely pigmented but they do show off and that finish is gorgeous. The formula is soft and silky and they apply and adhere well on bare skin.
Liquid Silk Lip Gloss – Limited Edition – £38.00
These are more of a layer of silk for the lips rather than ordinary lip gloss. I wish I was able to try them on, but I wouldn't give up my lip color at the time. This lip gloss glides on the lips effortlessly to provide the most vibrant of long-lasting color. Available in a range of beautiful, rich shades to perfectly complete any makeup look. The packaging was again on point!
Bright Eyes Eyeshadow Palette – Limited Edition – £71.00
There's a unique range of six eyeshadow palettes. Each offers 5 richly pigmented, vibrant shades in a mixture of matte and pearly finishes. Choose from warm cinnamon and ochers, nude peaches and browns or dark charcoal and verdant greens. You can create any number of different looks for beautiful, bright eyes. Bright Eyes Palettes come in a luxurious black and gold packaging in the Oud Milano logo shape.
Touch Face Blush – Limited Edition
Whether it's a single blusher or a duo of color, Touch Face Blush comes in a range of shades to add color and contour to the cheeks to suit any skin tone. Blushes are presented in beautiful gold compacts in the shapes of O,U and D.
Deep Mascara – Limited Edition
This special edition, long-lasting and deeply pigmented mascara comes in black or brown. The exclusive formula is waterproof and ensures voluminous and lengthy luscious lashes with staying power.
The Via Della Seta range also includes Neverending Foundation, Unique Serum, Primer, The Matte Lipstick and Nail Polish.
I'll be reviewing new Oud Milano products in the days to follow so keep an eye on the blog!
Enjoy more photos…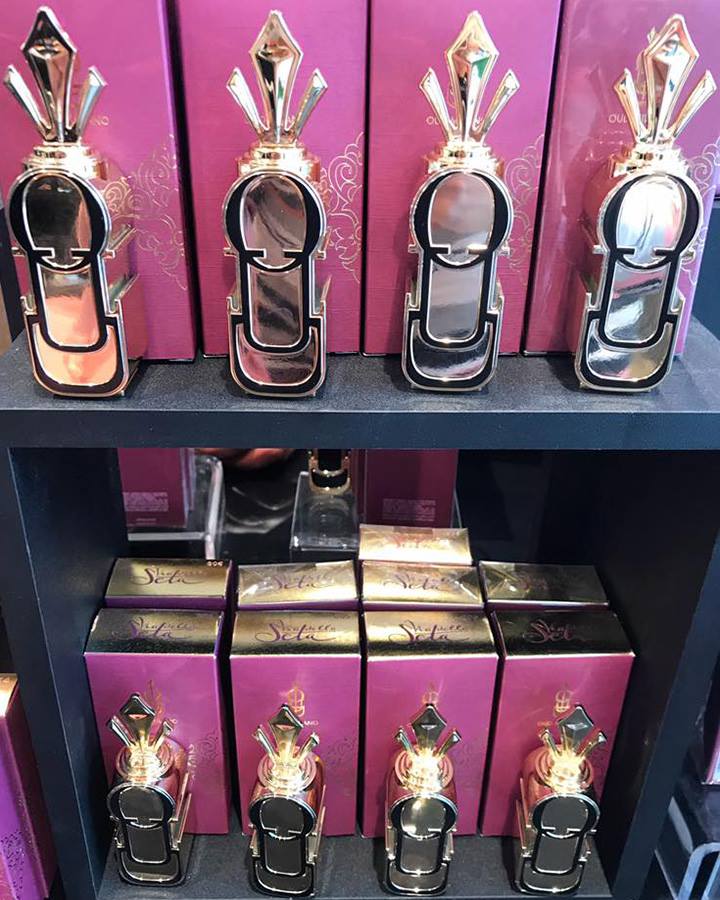 Oud Milano Demi Matte Lipstick Swatches (8 out of 16 shades available)