Hello beauties!
As summer approaches I want to give you some suggestions of orange lip glosses that you can use. Fiery and intense orange colors with an opaque or sheer coverage are highly wearable during the hot season when we tend to wear more bold lip colors. I admit I'm not a real fan of wearing orange lip glosses but I do own quite a few and today I picked my top 3 favorite for you.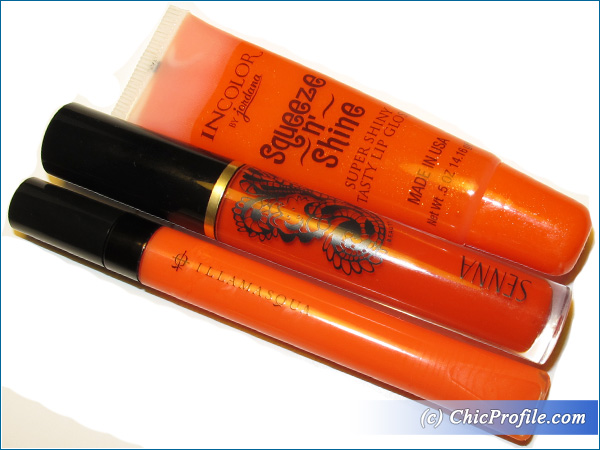 Take a look after the jump for more details and swatches.
Senna Bonfire Lip Lacquer (review, swatches, photos) ($20.00 for 0.14 fl oz/ 4.28 ml) is medium blood orange with an intense shine and medium to sheer coverage. It feels lightweight on the lips as it doesn't have a sticky or tacky formula but it has a delicious vanilla smell.
Illamasqua Torture Sheer Lip Gloss (review, swatches, photos) (£14.50 for 7  ml/ 0.2 fl oz) is officially described as a warm coral peach so check out my detailed review for more info. I can tell you it could be your favorite summery shade if you are into this kind of color. It has a lightweight formula without being sticky and it glides easily across the lips providing an intense shine.
Jordana Mandarin Glaze Squeeze n' Shine Lip Gloss (preview, swatches, photos) ($1.99 for 14.16 g/ 0.5 oz) is a light orange with a golden shimmer that provides an intense mirror like effect on the lips due to its high shine. The color is quite sheer when is transferred on the lips but it makes them look fuller.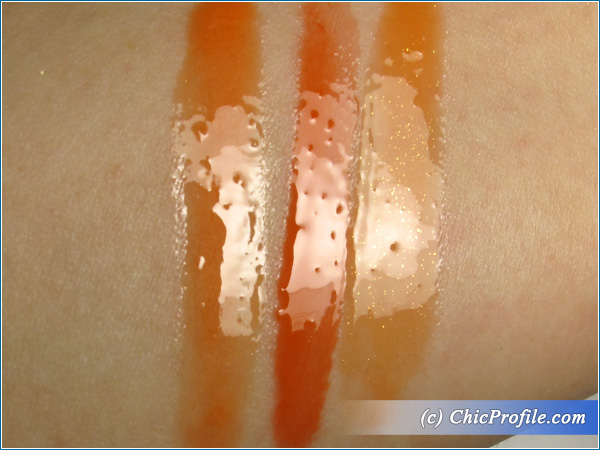 Swatches from L to R: Illamasqua, Senna, Jordana