Hello beauties!
Since NYX opened its first store here in Bucharest Park Lake Mall I honestly got to try out a lot more products than I used too, some of them sent for consideration and others that I bought myself. To tell you the truth I thought I'd not be using NYX HD Photogenic Concealer Wand anytime soon as it was at the bottom of my review list and somehow I had a feeling that I wouldn't be impressed by this product. One day while I was in a hurry and reaching out for a new lipstick shade from my Hello Kitty bucket (this is where I keep my lip products that are waiting to be tested & reviewed) I stumble upon this concealer which I obviously misplaced. So since it was already sitting right there I thought, OK let's give it an early try and see what it can do. This is one drugstore product that really impressed me so I thought it definitely needs to be reviewed ASAP.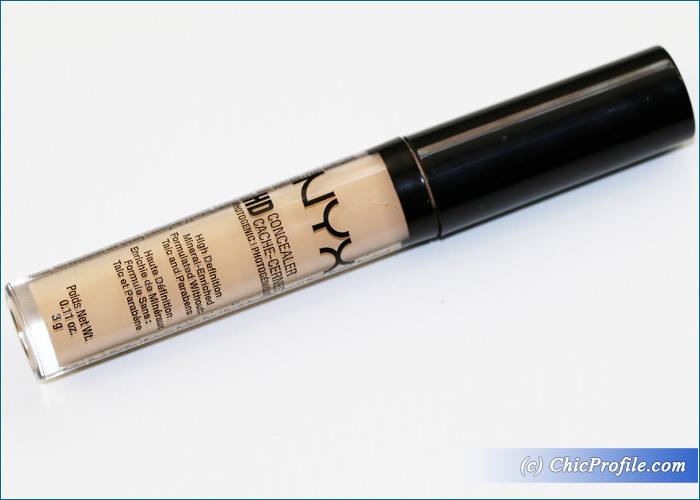 Where to buy:
U.S. – Now at ULTA and @nyxcosmetics.com
UK – Now at Boots, Selfridges
Romania – Now at ParkLake Mall (Bucharest) | City Park Mall (Constanta)
NYX HD Photogenic Concealer Wand (29.00 Lei / $5.00 for 3 g /0.11 oz) in CW04 Beige is a nude, neutral beige best suitable for light skin tones. The color is a perfect match for my skin color so no worries here. There are 12 shades to choose from so that's definitely a plus for the color range, anyone can find a matching shade to go with their complexion.I later read that is a NYX best-selling product and I'm happy that I did read about it only after my mind was set and I had time to test it and see what it can do.
First of all let's get rid of the obvious which is a packaging. It comes in a sleep, transparent plastic tube with a doe-footed applicator more like of a lip gloss rather than a concealer. I'm pretty much used to creamy concealers that are packed in a palette or that look like a single eyeshadow, just like La Mer Radiant Concealer (review, swatches) or the ones with a precise application in the form of a pencil like MustaeV Spot Eraser Concealer Pencil (review, swatches). I do admit the only concealer similar to NYX packaging that I've used was Estee Lauder Double Wear Stay-in-Place Flawless Wear Concealer and I had it as a travel size. So, it's easy to use and hold, the doe-footed applicator gives a precise application and I can easily apply the concealer where I needed and later blend it with my beauty blender without getting my hands dirty so to speak.
It has an amazing coverage, a medium to high coverage which instantly covers skin imperfections, discoloration and under-eye circles. I mean that day when I first used it I wasn't too confident it could be a much help and hide the fact that I've only slept for 5 hours, but it did an amazing job. Not only did it manage to gracefully conceal and hide my under-eye circles but it instantly brightened that area and made me look so fresh and rested.
I usually wear foundations with a light and natural coverage so I've applied NYX HD Photogenic Concealer on top of that only where I needed it. It applies so easily and evenly, without looking cakey or obvious and when I'm using my Beauty Blender it just get a flawless application.
The formula is creamy, a little bit thicker in the way that it doesn't run or feel liquidy so it's very easy to work with. You can blend it with your fingers, blending brush or beauty blender and will do an amazing job everytime. I like to set it very well with a loose powder and then make sure to blend it some more so it won't set into those fine lines. That way it will stay put for the entire day without fading or looking cakey.
The color is very pigmented and you won't need much product to conceal any skin imperfections. It feels so smooth and lightweight on the skin and gives an instant luminosity and natural coverage. You can layer it if you want more coverage but I never felt the need to do so.
I absolutely love its nude undertones and the fact that it doesn't look yellow at all so I can't believe a found a new favorite concealer.
I have a combination skin type so on me this one doesn't feel dry at all but for those with normal and dry skin types just make sure to moisturize very well before using this. I had about 9 hours wear with this concealer without creasing or looking cakey.
Enjoy more photos…