Hello sweeties!
A while ago I decided to pick something more vibrant from MustaeV and try out some colorful eyeshadows, just to get out of my comfort zone where pink, purple and nudes where everywhere. So I decided to try out MustaeV Gumball Eyeshadow among other shades that I told you about HERE. I know I'm not wearing a blue colors so often but I'm trying to put some color into my makeup looks this season, as I'm sure you've seen me recently wearing a deep blue smoky makeup (tutorial).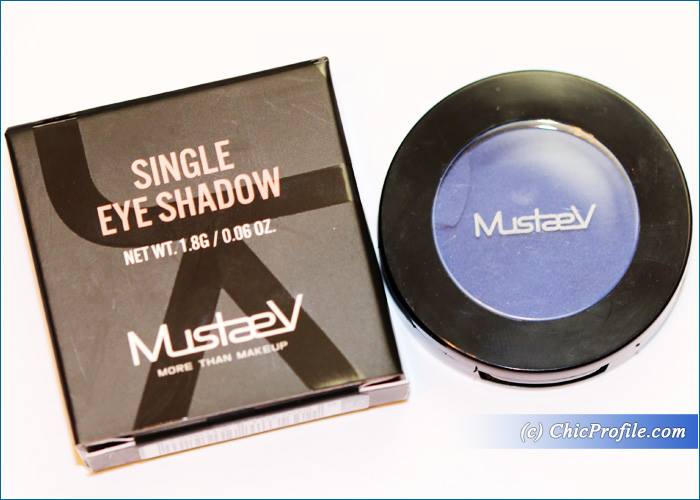 Where to buy:
U.S. & Worldwide – @mustaevusa.com (15% Discount using discount code: chicprofile), @mustaev.co.kr (International Shipping)
MustaeV Gumball Eyeshadow ($13.00 for 1.8 g / 0.06 oz) is officially described as bright cobalt blue with a pearl texture that provides a velvety smooth application. It's a deep, medium-dark cobalt blue with a slightly green tint and a soft matte finish.
This color is said to have a satin pearl particles and a pearl finish but I'm honestly seeing this more like a velvet matte finish. It's an intense color but somehow it looks patchy and uneven when swatched and applied. It is buildable, so adding more layers will definitely increase its opacity but I noticed it had serious fall out when applied. Even when I swatch it or used my brush to pick up the product, it did kick a lot of excess powder right from the pan.
This is so strange to me, as it's honestly the first MustaeV eyeshadow with a formula that misbehaves like this and I don't know why. I mean I've tested and own about 35 MustaeV single eye shadows and they all have an incredible smooth and silky texture, even those with a matte finish seem so smooth…but this one is just not a match for me. The texture feels a little bit dry to the touch and is not as smooth and silky like the other MustaeV eyeshadow that I own.
I honestly feel so sad while I'm writing this review because I absolutely love MustaeV and always had such a great experience with their eye shadows. Even before I started writing this review I swatched all of my MustaeV shadows just so I can check their texture once more, but there's none like Gumball eyeshadow over here.
The color is absolutely beautiful, intense and vibrant, definitely appropriate for a winter and colorful look. It adheres better onto the skin when I apply an eyeshadow primer (I used Too Faced Shadow Insurance, Urban Decay Primer Potion). It blends easily but the color just seem to sheer out quickly the more I blended and loose its intensity.
I know it's really hard to come up with a good and intense blue eyeshadow, as it's a tricky color, especially if you are aiming for a more matte finish.
Whenever I'm applying this color I'm making sure to tap off the excess from my eyeshadow brush and to use my Shadow Shields (from Andra Cosmetics) so I would minimize the fall out.
I had about five hours wear with this formula.
Enjoy more photos…