Hello pretties!
I'm crazy over pink, but you already knew that about me…so when I saw this gorgeous and vivid NYX Code Breaker Ombre Blush I just couldn't believe my eyes that a blush can get this pigmented. The ombre trend was going strong last year and took a small break this year, but if you've seen the new Dior Spring 2017 Collection (info, photos) then you know it will be revived in a few months. Ombre lips, hair or nails, you name it…but ombre blush? Well this is something new for me, even though I know NYX came up with Ombre Blush collection for fall 2015 and featured 8 shades. Recently a got a bunch of new NYX makeup products but after the opening store event here in Bucharest I had to check out the place one more time so here's my NYX makeup haul with products that I'm about to review later this month.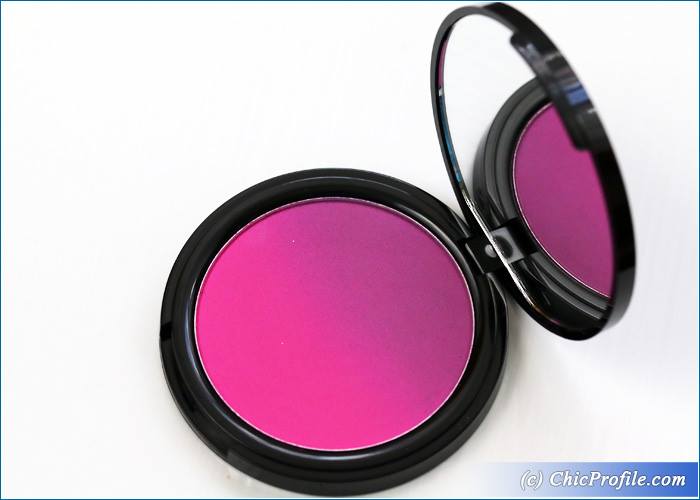 Where to buy:
U.S. – Now at ULTA and @nyxcosmetics.com
UK – Now at Boots, Selfridges
Romania – Now at ParkLake Mall (Bucharest) | City Park Mall (Constanta)
NYX Code Breaker Ombre Blush (42.00 Lei / $10.00 / £8.00 for 8 g / 0.28 oz) is a combination of hot fuchsia and a magenta purple with cool undertones. This is a new blush inspired by the Ombre trend and will your cheeks an instant flush of color.If you are darker skin tone, you will definitely love this one and find it more appropriate for you and easy to wear. For those with fair and light skin tones, this blush is a real challenge as it comes on so very pigmented. It has a very soft shimmer that gives my skin a beautiful and natural glow without emphasizing my pores.
The color is amazing…believe me I love a flush of fresh pink, but this blush is super, extra pigmented if I might say. It has a bold and vibrant color, maybe too pigmented for a blush in my humble opinion. I've definitely enjoyed using it as an eyeshadow a couple of times but as a blush I must be very careful how I apply it.
I've tested it with 3 of my blush brushes and it does take a very light hand to apply it…and even then I must use my beauty blender to sheer out the color. It's easily blendable so I don't have to work to hard to blend it into my cheeks. It won't emphasize pores so my combination skin type is happy with this blush.
It has a silky formula, glides easily across the skin and feels just a little bit dry. You just have to be very careful when you apply it…and I mean that you really must pick just a little bit of product, tap the excess and then gently just touch your cheeks and the color will start to show right away. I never felt the need of adding a second layer or pick up some more product on my brush.
You can choose to wear the colors separately or swirl your brush into the pan and mix them together for a gradient effect.
I find this blush to have a long lasting formula, as I usually get over 8 hours wear.
Enjoy more photos…