Hello pretties!
Nordstrom 2017 Anniversary Sale continues with an early access for its cardholder members until this Thursday so you can still get the chance to shop before the public sale goes live at the end of this week. Today I've put together a post with a couple of Face & Cheek Palettes that you can get at discount prices, as well as another makeup products. Among my favorites is by far the limited edition Guerlain Terracotta Chic Tropic Bronzer (review, swatches) that I bought last week. It's truly a collector's piece and you can have a closer look at it in my review.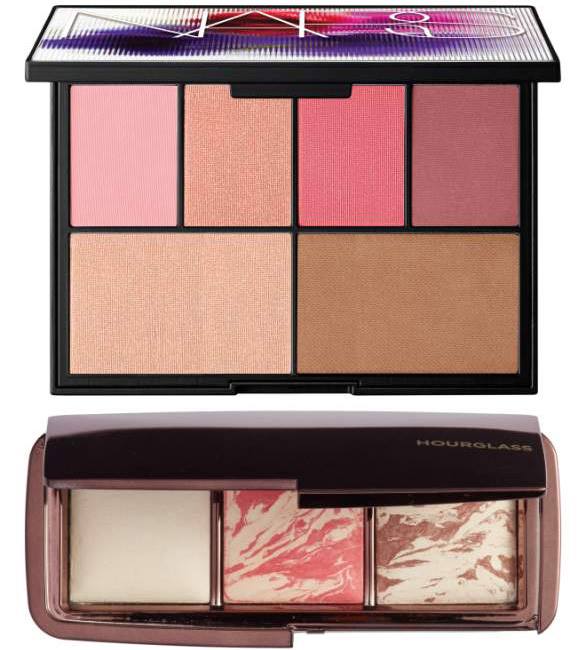 Availability
U.S. – Early Access at Nordstrom between 13 – 20 July 2017 | Public Sale between 21 July – 6 August 2017
Irresistible on the face and décolletage, this dual-color powder is the most desirable collectible this summer with its combination of best-selling Terracotta shade 03, which naturally warms all complexions, and a hint of coral to highlight your sun-kissed glow. The colors can be blended together in the blink of an eye to even out the tan or warm the complexion. The precious case is reusable when the powder is finished, and its fragrance takes you on a getaway with notes of freesia and orange blossom.
Four universally flattering blushes are paired with iconic Hot Sand Highlighting Blush and Laguna Bronzing Powder for cheeks that pop with luminous depth.
Palette includes:
Blush in Angel Pride (soft pink) (0.12 oz.)
Blush in Angel Pride II (shimmering coral) (0.12 oz.)
Blush in Angel Pride III (shimmering rose) (0.12 oz.)
Blush in Angel Pride IV (shimmering mauve) (0.12 oz.)
Highlighting Blush in Hot Sand (0.29 oz.)
Bronzing Powder in Laguna (0.29 oz.)
Unlike traditional powder, blush and bronzer, which tend to be flat, Ambient Lighting products use Photoluminescent Technology to filter out harsh light, refine the appearance of your complexion and enhance your skin in any type of light, including flash photography. The optically transparent particles in Ambient Lighting Blush and Bronzer allow for seamless blending, color transitions and natural contouring. Ambient Lighting Blush and Bronzer are blended by hand using an advanced miscelare technique (meaning "to mix" in Italian), creating the perfect balance of pigments in a gorgeous natural pattern. No two look alike. All products in the Ambient Lighting collection are designed to be layered and work together seamlessly. Using the products together imbues the entire complexion with an otherworldly glow.
Palette includes:
Ambient Lighting Powder in Diffused Light (0.12 oz.): a soft, warm, pale yellow that conceals redness and gives skin clarity, like a soft ray of morning light.
Ambient Lighting Blush in Diffused Heat (0.11 oz.): a vibrant poppy blush combined with Diffused Light for a subtle halo effect.
Ambient Lighting Bronzer in Diffused Bronze Light (0.11 oz.): a cool bronze shade fused with Diffused Light to mimic a ray of warm sunshine.
Set includes:
Maestro UV Skin Defense Primer SPF 50 (1 oz.): an invisible shield that primes and protects the skin in one step with its completely weightless formula that blurs imperfections, smoothes skin and adds to makeup longevity.
Fluid Sheer #2 (1 oz.): a sheer, translucent formula that dresses your skin in an illuminating veil of radiance.
Duo includes:
Full-size Photo Finish Foundation Primer (1 oz.): a primer that instantly smoothes skin and blurs pores so makeup lasts for hours.
Travel-size Photo Finish Primer Water (1 oz.): a two-in-one primer and setting spray that hydrates, preps and refreshes skin, adding radiance without shine.
SHOP THIS POST
Enjoy more photos…