Hello pretties!
I discovered Eyeko products almost as soon as I moved to London. For me as a beauty blogger the main perks of relocating to another country is that I can try out new products that I haven't had the chance before and be updated easily with the latest launches. Eyeko London doesn't really have such a wide range of makeup products like other brands do, but it has some gems that you should really try them out at least once. My favorite is Eyeko Lash Alert Mascara but more about that on an upcoming review as today I want to share with you my thoughts on Me & My Shadow Waterproof Shadow Liner, a product that goes perfectly with this season.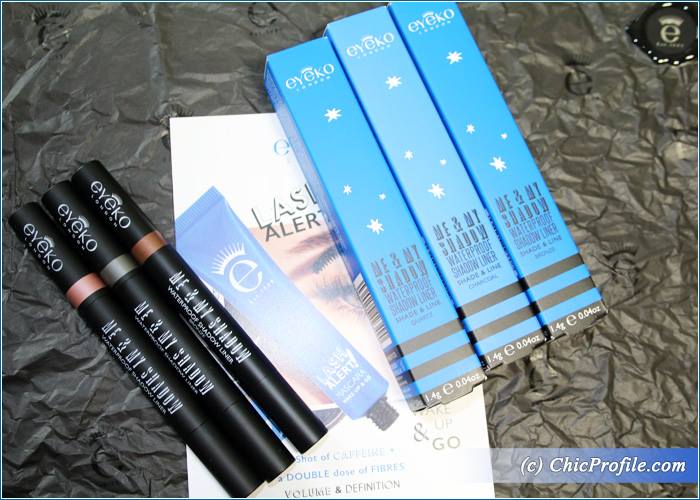 Where to buy:
UK – Now at Eyeko.com, Selfridges, Net-a-Porter
U.S. – Now at Nordstrom
Me & My Shadow Waterproof Shadow Liner (£18.00 for 1.4 g / 0.04 oz) is available in six shades: Quartz, Bronze, Charcoal, Topaz, Taupe and Chocolate and as you know from a previous article, I got the first three shades to try out.
I think it's more than obvious that I started with Eyeko Quartz Waterproof Shadow Liner which is a medium, bronze-rose with a bit of yellow undertone and a metallic sheen. It has a great color payoff, showing an intense yet buildable color. It has a creamy consistency, just like the other shades have and it glides effortlessly across the lid. It feels so lightweight and comfortable when applied and you can easily forget that you have it on. This shade stays on put, even without an eyeshadow primer applied, which is really something considering I have oily lids and I don't really trust creamy shadows. On its own I wore it for over 3 hours without creasing or fading.
I tried all the three shades in different ways: wore on bare skin, applied on top of an eyeshadow primer or as a base used underneath a powder eyeshadow. By far Eyeko Quartz is my favorite, but you know me, I can be subjective when I'm talking about a pink shade. 🙂
True fact is that they all have such an incredible creamy consistency that just feels amazing to apply. They have a built-on brush which can be helpful to retouch our makeup. I did try to use the brush to diffuse the color or blend it, but I can't say it does a very good job, so I had to use my own brushes. I can say that it can be useful if you are in a hurry and you don't have any other brush laying close by or you just have the liner in your purse and you are looking for a quick makeup retouch.
Eyeko Bronze is a dark, chocolate brown with warm undertones and a metallic finish. It had an amazing color payoff, being opaque in one swipe. You can intensify the color by adding another layer but I was good with just one swipe across my lids. For me this color looked to intense to wear it on its own so I really enjoyed creating a smokey brown makeup or pairing it with other shades of gold, vanilla and bronze. Just like the Quartz shade, this one behaved on my lids even without an eyeshadow primer without budging for a couple of hours even though the temperatures where high out there. I do admit it works even better as a base underneath a powder eyeshadow and as I said, for the best way was to use Eyeko Bronze for a smoky or darker makeup look.
Eyeko Charcoal is a black shade with minimal silver sparkle and a satin sheen. The color was intense and richly pigmented when swatched but didn't quite had the same pigmentation when applied to the lid. It tended to look more sheer but I managed to built up the color by swiping the liner across my lid a couple of times. From a dark color like this I would have expected a better color payoff on the lid and a pitch black color. On its own it didn't perform well at all and creased and faded within an hour. I did use it as a base for a smokey eye makeup, applying a black powder eyeshadow on top of it. It's easily blendable and feels comfortable on the skin, having the same creamy consistency as the others but this shade is not to be trusted if worn on its own.
SHOP THIS POST
Enjoy more photos…