Hello beauties!
If I was asked to describe MustaeV Spot Eraser Concealer Pencil in just one word, I would say that is impossible for a product that does to much, but I'm going to go with at least two words which are, precision and multi-purpose. It's the first time ever when I get to try out a concealer pencil and even though I got this a while back, it took me about 2-3 weeks until I finally started using it. In the beginning I was, not to say skeptical but, as my favorite concealers where the creamy ones that you can apply with your fingers or those with a doe-footed applicator, I wasn't quite sure this sleek puppy will do the trick. I couldn't have been more wrong about it and you can keep on reading to find out why.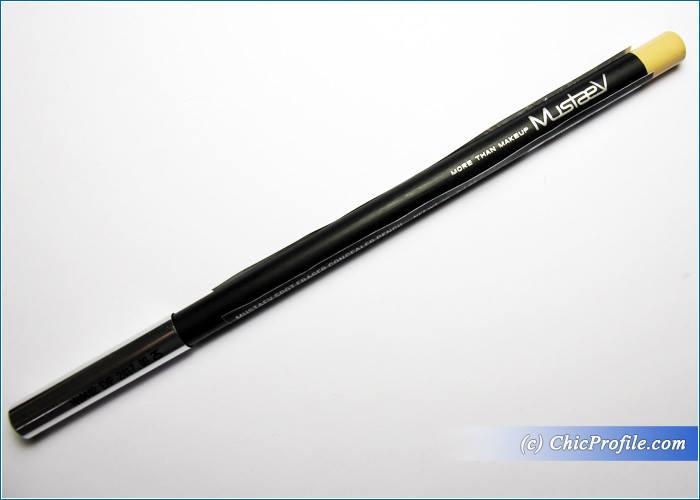 Availability
U.S. & Worldwide – @mustaevusa.com (15% Discount using discount code: chicprofile), @mustaev.co.kr (International Shipping)
MustaeV Spot Eraser Concealer Pencil ($13.00 for 3 g) comes in two shades, Natural and Brightener and I got the first one. It is a light nude color with a matte finish and a creamy formula.
I mean is creamy but with a very well balanced formula, that doesn't make start to melt once you applied on the skin. In order to best describe its consistency I would say it's right in the middle as the formula for lip pencils.
In the beginning I thought this is just a concealer pen and I wouldn't use it so much, but only after I start putting it to the task I realized it's a multi-purpose pencil that can conceal imperfections, minimize the appearance of fine lines and wrinkles, and can even be used on the lips to prevent lipstick feathering and bleeding.
Having the tip of the pencil, gives it the much needed precision when I want to conceal zits or pimples and I just have to apply such a small amount, directly on the spot and gently blended with a my finger. I don't have to use more product than I actually need, like I was doing before with my creamy or liquid concealers. MustaeV Spot Eraser Concealer Pencil can be easily blended like a cream but conceals with the precision of a pencil, providing a long-lasting matte finish.
I mean I can easily conceal spots or redness around my nose with a perfect result of a flawless looking skin but with a natural effect. I can use it even after I've applied the foundation and just conceal on the spot directly where I need more coverage without applying more than one layer.
The Natural Cover shade is perfect for those with light and medium skin tones and provides a natural finish, while the Brightener Cover shade can be used for a brightening effect.
It doesn't look cakey, heavy or unnatural at all as you just only need a thin layer, and if you decide you want additional coverage you can simply apply some more, but for me it has always been enough with just one single application.
It's so easy to use, just like you'd use a pencil when you want to draw something. It's not a mechanical pencil so you'll need a pencil sharpener for the tip once in a while. It has a sleek and slim shape, very easy to use and hold, just like an eye or lip pencil would be.
Enjoy more photos…