Hello beauties!
You already know my passion for MustaeV products but you also probably know that I'm not using gel liners pretty often. Well, that kind of changed when I met MustaeV Smudge Proof Catwalk Gel Liner, probably one of the best products out there. Currently the brand offers only one shade which is 01 Black, but I'm surely hoping for more colors in the future.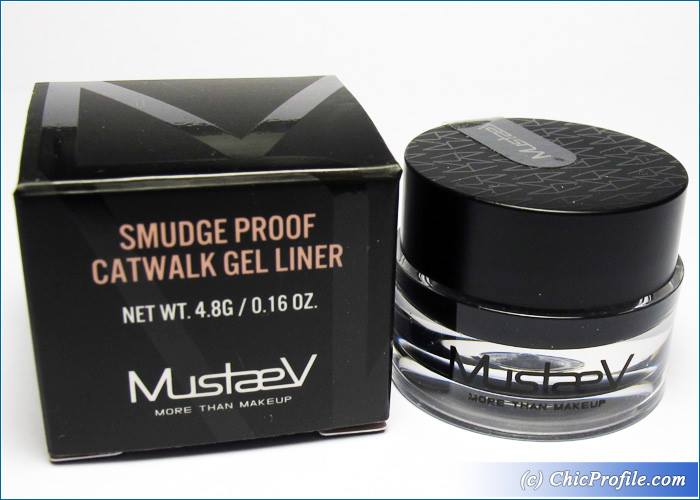 Where to buy:
U.S. & Worldwide – @mustaevusa.com (15% Discount using discount code: chicprofile), @mustaev.co.kr (International Shipping)
MustaeV Smudge Proof Catwalk Gel Liner 01 Black ($21.00 for 4.8 g / 0.16 oz) is a pitch black, rich and intense shade with a matte finish. It's truly pigmented and offer a high color payoff.
It's a gel liner with a creamy texture, that glides on smoothly without pulling the lid. It has an waterproof formula which is so fast drying and it doesn't budge, smudge or bleed for the entire day. Now that summer is coming, waterproof makeup products are even more requested but with MustaeV Smudge Proof Catwalk Gel Liner you won't have to worry about ruining or retouching your makeup on a hot day when temperatures go crazy out there.
I feel like the name was so righteously chosen as it's indeed a luxurious gel liner which provides you with an effortlessly and flawless application for creating a catwalk glamorous look. It has a silky and smooth consistency that allows for an easy and controlled application.
It comes in this small transparent jar with a black cap. Compared to MAC gel eyeliner, MustaeV comes in smaller jar but it does hold more product +1.8 g.
Using an eyeliner brush you can easily create a cat eye look or just a casual beauty cut, but if can also be smudged underneath your lower lash line for a more dramatic effect.
On MustaeV Official Website you can also check out photos and more details regarding the tests this gel liner had to face. You will find photos on how the gel eyeliner behaves when water or oil is applied on top.
I personally got an entire day wear with this product without any problems and without the need to retouch my makeup. I sometimes like to use an eyeshadow pencil as a makeup tool and dip it into the gel liner and then start to apply the product on my lower lash line or on my waterline.
Enjoy more photos…