Hello beauties!
Last month Douglas Makeup celebrated its first birthday. So apart from wishing Douglas Makeup Happy Birthday I also want to share with you a couple of quick reviews about some of their products. Their products can be found right at the entrance of the store and it's easy to loose yourself in the multitude of colors, variety of textures and products. I'm quite new to Douglas Makeup myself so I invite you to discover them together in case you haven't already. Their prices are so affordable, almost competing with drugstores products.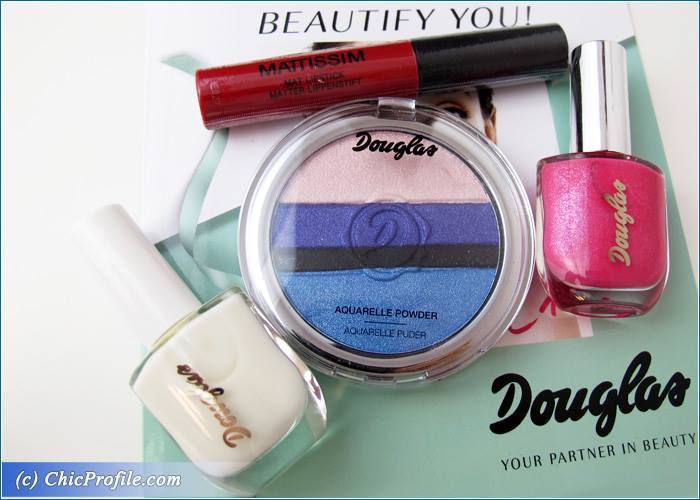 Where to buy:
Romania & International – Now at Douglas Perfumeries
Douglas Aquarelle Powder (65.00 Lei / €16.99 for 11 g) is a eyeshadow quad featuring a combination of four colors. I got the No.2 Aquarelle Powder palette in pink, blue and black shades that you see swatched bellow. Swatches were done on bare skin, without any eyeshadow primer and they do look fairly pigmented, but don't have such an intense color payoff. I'm not talking about rich, full opaque color coverage but still a pretty decent pigmentation.
They all have this frosty pearl finish with fine glitter particles, they apply on smoothly but they tend to show a bit of a fall-out during the application. They are easily blendable but the black color's formula felt a little bit dryer and powder than the others. I got about six hours wear with a bit of a fall out. The packaging is pretty simple, a silver plastic case with a transparent lid that snaps shut, nothing to fancy though.
Douglas(05) Libertine Smile Mat Lipstick (45.00 Lei / €9.99 for 5.5 ml) is a bright, bold and rich red with a matte finish. This color got me by surprise on how rich, intense and pigmented it applied on the lips, but also swatched on my arm. I admit I didn't have any expectations when I got to try Douglas Mattissim and once I applied the color on my lips it gave me an instant smile.
It applies so smoothly across the lips, with a creamy formula that feels so comfortable. It dries down in a few seconds to a beautiful matte finish, but my lip lines were emphasized right away. It doesn't dry the lips like I thought it would but still a lip balm is necessary. It will leave a stain once the color wears off.
It comes in a transparent plastic tube with a black velvet cap and a doe-footed applicator with a different shape then what you'll usually see on lip glosses. This type of lip gloss applicator goes on lips so precisely, delivers the right amount of product and can give a flawless lip look even without using a lip liner.
Douglas Nail Polishes (19.00 Lei / €3.99 for 10 ml) came to me in two colors. I got the anti stain base and No.22 Rose Enchantee. They both apply quite well, without any problems but the formula goes on thicker side.
Douglas Rose Enchatee nail polish looks fairly opaque in one coat while in two coats it delivers a rich and beautiful pink hue with silver and pink shimmer. The polish takes quite a lot of time to dry out completely but even after it does you have to be careful with your nails. I applied the color before going to bed and then waited for about 30 minutes before I completely went to sleep but when I woke up the next day I had fine lines on the surface of my nails. I got about 5 days wear with this formula with visible tip wear but no chipping.
Have you ladies tried Douglas Makeup so far?
Enjoy more photos…