Hello beauties!
MustaeV Pink Color Powder Starlight has been sitting in my makeup stash for a few months now so it was about time to review it. Why now?…because I admit…is not a product that I reach out for on a daily basis so I wanted to try it out with different products and formulas, before I'll share more details with you guys.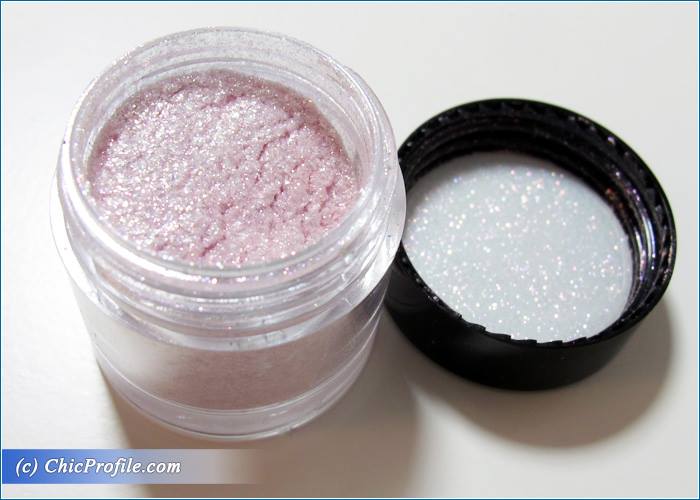 Where to buy:
U.S. & Worldwide – @mustaevusa.com (15% Discount using discount code: chicprofile), @mustaev.co.kr (International Shipping)
MustaeV Pink Color Powder Starlight ($18.00 for 2.5 g) is described as a sparkling and colorful glitter pearl powder that has dazzling and distinct characteristics, like the stars of the night sky. It's a light and luminous silvery pink glitter with silver and golden reflexes. Depending on the angle the light hits it emits different iridescent luminous colors so you can never have enough of this as it constantly changes its color.
It's a loose glitter pearl powder with a mysterious luster. It has some big glittery particles but it feels so smooth to the touch. You just have to find the best way to apply this powder, on the right makeup base as otherwise you will just get a sheer color and the pigment won't adhere too well onto the skin.
I personally like to apply it over products with creamy formulas or eyeshadow bases for glitter which can make MustaeV Pink Color Powder Starlight adhere better and have minor fall-out. Bellow I took a swatch of MustaeV Pink pigmented applied over Illamasqua Embellish Vintage Metallix (review, swatches) so you can see how gorgeous it looks like and how much it changes its appearance. I also like to wear it over MAC Vintage Selection Pro Longwear Paint Pot (review, swatches), Shiseido Konpeito Shimmering Cream Eye Color (review, swatches) or any other cream eye color, just to give the entire makeup a more luminous and sparkling appearance.
This is a multi-use product as you can choose to wear it on its own if you like, or in combination with other products like powder, lip gloss, nail polish, creamy eye colors, creamy eye base.
I did wear it on my lips two times actually when I went clubbing and I just dabbed the pink glitter over my MustaeV Clear Glazing Lip Gloss (review, swatches) for a touch of pink sparkle but it will definitely work on colorful lip glosses as well.
Being such a versatile product it can also be paired with nail polish, like a clear top coat or dusted over any nail polish color and then coated with a top coat. There are so many ways to use a product like MustaeV Color Powder Starlight. If you are in a festive mood, or the occasion requires a more dramatic or edgy makeup look you can also dab it gently on the top of your cheekbones over a creamy blush (don't apply too much as you don't want to look like a sparkling disco ball).
Enjoy  more photos…