Hello pretties!
I've always been into nudes so the more colors I had the better. I like nude eyeshadow with satin finish, matte or frosty finish, I like them all and trying out different color combinations is just right up my alley. A couple of weeks ago I received MustaeV Nude Quad Eye Shadow Palette and only recently I got to try it on, play with it for a couple of days and even use it in several of my makeup looks, some of them that I've already posted tutorials for. In case you haven't seen it already you can go on and take a look at my MustaeV Nude Quad Eye Shadow Palette video so you can have a first impression in case you want to see something more than just photos.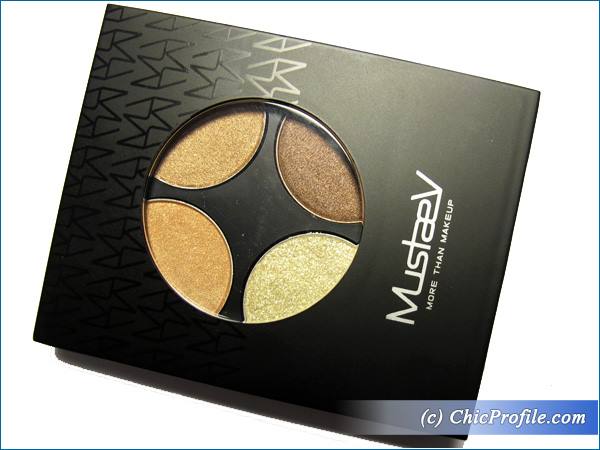 Availability
International – @mustaevusa.com (15% Discount using discount code: chicprofile), @mustaev.co.kr (International Shipping)
MustaeV Nude Quad Eye Shadow Palette ($52.00) is a new 4 eye shadow palette that is yet to be launched on MustaeV website so I'm truly happy to be able to review this item before it gets launched so you can have a proper look and decide if these are the kind of color you'll be interested in purchasing. All these 4 eyeshadow are also available to purchase separately if you want for $13.00 each but purchasing them all together as an eyeshadow quad it is more affordable as you also get the empty quad for free . I actually own one of these shades since last year, and I'm talking about MustaeV Old Gold which I already reviewed if you wanna check it out and see more photos and even a makeup look where I used this shade.
MustaeV Gold Digger Eyeshadow is officially described as a natural light gold with sparkling glitters for starlit eyes. This is the lightest shade of this quad and works great used on the brow bone or on the inner corner of the lid for luminosity and freshness but it can also be applied all over the lid for a beautiful gold effect. I see it as a light yellow gold with fine shimmery glitter particles which can really capture the light and reflect a gorgeous color.  It has a good color payoff, it adheres well onto the skin even without using an eyeshadow base or primer. It provides a sheer to medium color coverage, leaving a feeling of translucency but you can build up the color to a medium opacity and intensify it especially if you are using a base or paint pot prior to its application. I usually prefer to apply it with a light hand as it's not the kind of color who will look intense on your eyelids but it's meant to brighten your eyes and give the entire makeup look a golden luminosity. It has a nice silky smooth texture that it can be easily applied without any fall out or creasing, it blends easily and effortlessly and has a long lasting power.
MustaeV Old Gold Eyeshadow is official described as a glitter texture solemn, deluxe gold bronze shade like an ancient golden city. It's a light to medium golden bronze with an intense satin finish and fine pearl particles. It has an incredible sheen, almost like a gorgeous metallic gold-bronze and it's definitely pigmented and has a good color payoff even without an eyeshadow base. It has a super soft, smooth velvety texture, a true pleasure to swatch and apply it on your eye lids. It adheres well onto the skin, without any fall out or creasing and it's easily blendable. This is one of the colors that give an effortlessly luxurious eyes effect. It lasted for more than 8 hours of me even though I have oily lids so you'll know this means it's a long-lasting eyeshadow.
MustaeV Naked Wood Eyeshadow is officially described as antique, stylish beige glitter. This is one of those medium shades from every Naked or Nude palette, a color that doesn't look to bright, intense or pigmented and can be mixed with almost every shade out there or can easily serve as a base color. I see it like a nude peachy beige with an intense satin finish and fine glitter particles. It has a good adherence on the skin, without any fall out or creasing so is applied with easy and blended just the same. This is a shade that will complement every skin tone, doesn't look to intense or too sheer, just a perfect shade for a nude look that won't go unnoticed. It has the same super smooth, light and velvety texture like Gold Digger eyeshadow has and it last without fading the entire day.
MustaeV Burn Eyeshadow is officially described as pearl texture brown hue with a reddish tone. This is the darkest color of the quad and a truly must have. A deep reddish brown like this with a pearl finish that provides a shimmering sheen will make your eyes edgy. This can be used to accentuate your eyes, applied on the outer corner of the lid, on your crease or on the lower lash line. It look beautiful in a brown smoky eye look but also on a more dramatic evening look if you want. It has a super soft, smooth and velvety texture that glides evenly across the lid and blend effortlessly. I had no fall-out while applying MustaeV Burn and it also shown no signs of creasing or fading even after 8 hours wear.
If you haven't seen it already, here's one of my recent MustaeV Nude Quad Eye Shadow Palette makeup tutorials (tutorial, photos) but there will be more makeup looks posted on the blog this week if you are interested in stopping by to check them out.
The only disadvantage this palette has, at least for me personally, is the fact that it doesn't have the name of the shades written somewhere on the back of the palette as it would be easier to remember them, instead of checking out the website. As I said this palette isn't yet available so once it will be launched the packaging could have more details and perhaps bare the names of the shades as well. I update this post with more details once the palette becomes available.
Enjoy more photos…