Hello beauties!
It was about time I'd start giving you a closer look at the products I've been using this spring and especially the new products that I got, like those here from MustaeV. I'm a fanatic when it comes to MustaeV products and it's been over 3 years since I'm enjoying their range of makeup items, brushes and more recently even skincare. This spring I got to play with new eyeshadows and got for the third time MustaeV Skintty Tint Foundation which is one of my most loved and worn liquid foundations. Don't forget that MustaeV is available in Asia, Korea and U.S. but they do ship worldwide and you get that 15% discount by using "chicprofile" code at checkout. If you haven't tried this brand yet, I genuinely recommend it as they have some great quality products at affordable prices.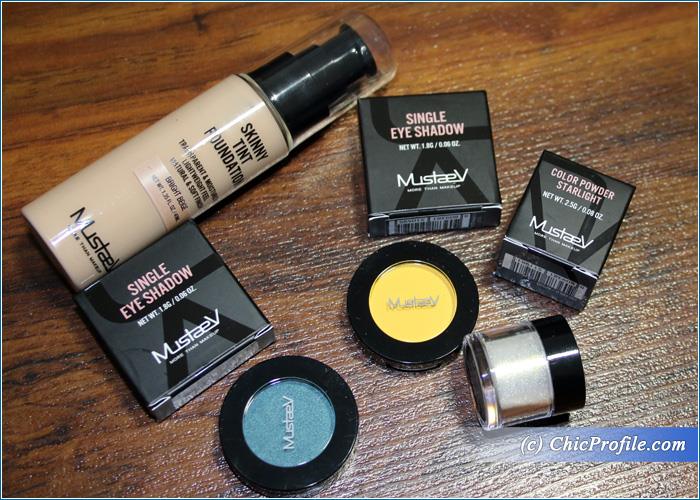 Where to buy:
U.S. and International – Now @mustaevusa.com (15% Discount using discount code: chicprofile) Worldwide Shipping, @mustaev.co.kr
I would own to my promise and soon I'll return with individual reviews for each of the products bellow but let me first start with the Skinny Tint Foundation (review, swatches, photos) which I've already been using for years now.
I just want to make a quick update about this product, since I now got it in the new packaging. Honestly, I personally preferred more the old foundation bottle as you can see in my previous review but as I understand they had a problem with it and they decided to change it. I personally thought it was perfect, never had any issues with the 2 bottles that I got and I never heard any of the bloggers that I know to have used this foundation to have had problems, but then again MustaeV is the kind of brand that listens and acts on customers and bloggers complains or recommendations so if some people really had issues with the old packaging they decide to change it.
They kept the same formula and I'm glad they did as it works perfect for my combination skin type but it also works for any other skin type. They were working on expanding their range of colors as they currently have only 3 shades and I'll definitely let you know when they'll be launching the new shades. I was totally impressed to see that they haven't change the price for this product and it's still $33.00 for 40 ml / 1.35 fl oz which more than your average foundation. They kept the easy opening system for all of their products, which is one of those small things that makes the difference because you can see they pay attention to details. For me is honestly a joy opening MustaeV products knowing that I won't broke a nail in the process or scratch my polish or even damage the cardboard packaging (Yes, I'm one of those that likes to keep the original packaging, also because I'm a blogger and info may be required by some of my visitors). I have posted last year on Instagram my MustaeV packaging collection, so you can really see that I'm not kidding…but since I'll be moving to London soon I'll need to leave my collection behind.
Now moving on to MustaeV Mossy Eyeshadow ($13.00 for 1.8 g / 0.06 oz) a gorgeous deep blue-green with a pearl texture. I showed you live swatches on Instagram when I got it as I was impressed by its pigmentation (swatched without any eyeshadow primer or base) and those gorgeous reflections. You know that blue and green shades are not really my favorite but believe me that MustaeV Mossy had quite an impact on me and I've used it a couple of times since I got it.
MustaeV Poppin Yellow ($13.00 for 1.8 g / 0.06 oz) is officially described as bright neon yellow with a matte texture that provides a velvety smooth application. I do admit that MustaeV has one of the best matte eyeshadows, with such a smooth and velvety formula that it's hard not to fall for them at the first swatch. This bright yellow is perfect for a spring or summer makeup and I'll try to be more playful with my looks and include this shades as well. 🙂
MustaeV Gold Color Powder Starlight ($18.00 for 2.5 g / 0.08 oz) is actually the last shade I've been missing from my MustaeV Collection and it's a sparkling and colorful glitter pearl powder that has dazzling and distinct characteristics, like the stars of the night sky. You can check out my Instagram HERE for more photos and swatches of this product, but as you can see it looks quite sheer on the skin (swatches taken on bare skin) but it gives a really beautiful and unique effect when applied over any other eyeshadow, especially those with a creamy texture. I got to wear this shade two times for an evening makeup look and I was pleasantly surprised to see I had no fall out when I returned home. I will give you more details in my upcoming review.
Enjoy more photos…