Hello pretties!
Today I want to give you a quick peek of my new Urban Decay products that I'm currently using. I will be reviewing these separately (anytime soon) but for now I just put them all together in this article. They are considered new spring 2017 releases here in Romania, even though I know they've been launched for quite a while internationally.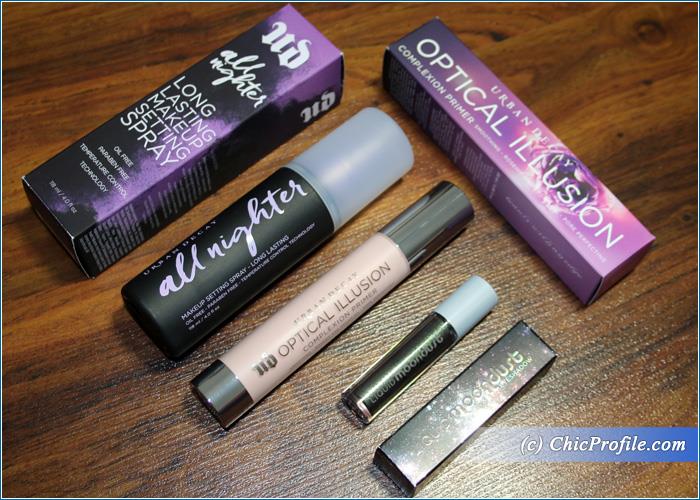 Where to buy:
Romania – Now exclusively at Sephora and @sephora.ro
U.S. & International – Now at Sephora, @sephora.com, @urbandecay.com
I would start with the new Urban Decay All Nighter Long Lasting Makeup Setting Spray ($31.00 / 138.00 Lei for 118 ml / 4.0 fl oz) as this is a new release with new packaging but basically does the same thing as its previous version in a white bottle. I have the previous version as well and I've been using regularly for over six months and I still haven't finish it. So what I'm saying is that if you get the full size bottle, it will last you a long, long time if you are using it only on yourself and not like a MUA that will be spraying it on his clients as well.
It is a weightless mist that will keep you makeup in place for up to 16 hours without melting, cracking, fading or settling into fine lines. You'll get a smoother looking skin, get rid of that powdery effect and show a vibrant and fresh makeup look. You just need to shake the bottle and mist your face a couple of times in a X and T formation and you are ready to go.
Urban Decay Optical Illusion ($34.00 / 151.00 Lei for 28 ml / 0.95 fl oz) is a complexion primer that instantly blurs the look of flaws, reduces fine lines and minimizes the appearance of pores. It gives you a porcelain-like skin and the makeup goes on better and last longer.
It has a velvety soft formula with a slight pink tint to illuminate skin pre-makeup, but it dries down to a translucent, matte finish. I also been using this product for quite a while now, but since I was used to silicone primers I find that this one doesn't glide on so smoothly and easily, like for example L'Oreal Infallible Mattifying Base. I'll be giving you more info in my upcoming review.
Urban Decay Zodiac Liquid Moondust ($22.00 / 112.00 Lei for 5 ml / 0.17 fl oz) is a smoky black with blue-green shift & blue-green 3-D sparkle. It isn't the kind of color I'd usually go for, even for an evening makeup, but I did had the courage to try it on, one evening when I had a glamorous event. I first used it all over the lid, more like a dark base and worked my way from there, while at the end I placed a bit of MustaeV Gold Powder Starlight (swatches, photos) on the inner corner of the lid.
It's a liquid eyeshadow if I might say so, having a creamy liquidy formula which applies on so smoothly and evenly. It's super pigmented and intense, just like the famous Moondust eyeshadow formula. It has a 3-D metallic and diamond-like effect which makes it great for an evening makeup or whenever you want something more fancy and glamorous.
Enjoy more photos…