Hello pretties!
My love for MustaeV makeup products is no longer a secret, but my love for MustaeV makeup brushes kept on growing with each new brush that I got. I still remember the sensation I had when I touched MustaeV V31 Blush Brush (review, photos) against my cheeks and so soft it felt…that was over 2 years ago.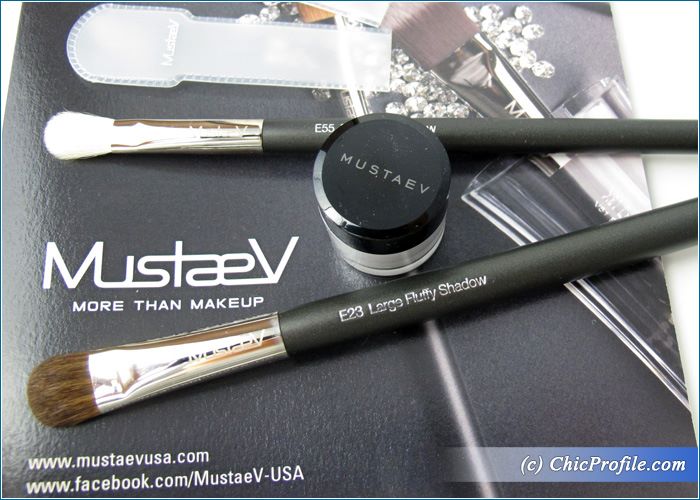 My collection of MustaeV Makeup Brushes (info, photos) is getting bigger and bigger, so each brush feels like a brand new makeup treat and a pleasure to touch and feel it against my skin. Recently I got two more new makeup tools, like MustaeV E23 Large Fluffy Shadow ($31.00) and MustaeV E55 Blending Shadow ($30.00), so expect individual reviews in the following days.
Where to buy:
U.S. & Worldwide – @mustaevusa.com (15% Discount using discount code: chicprofile), @mustaev.co.kr (International Shipping)
I've been putting my new MustaeV E55 Blending Shadow brush to good use for the past two weeks and it's competing with my all time favorite blending brush MAC 217. MustaeV E55 Blending Shadow brush is an oval medium-sized brush made of soft, elastic natural hair. Compared with MAC 217, MustaeV has softer bristles and is not that fluffy, which allows for a more precise and faster blending or creating a depth. I will tell you more about it in a few days.
MustaeV E23 Large Fluffy Brush is a large brush with a round rectangular tip made of soft, full natural hair. This one is perfect for laying the base or applying powder eyeshadow. Considering it's a large eyeshadow brush, those with small eyes may not reach for this one very often. I do like to use it when applying eyeshadow, color powder or pigment and I want a softer effect. It does enhance the pigmentation but it can also be used for blending due to the soft, taut quality of the bristles.
Now I can keep my brushes on my desk in this cute and professional MustaeV Bloom Pouch (review, photos) which also allows me to take them with me on the go…just a quick zip and I'm done. What I love about MustaeV when it comes to brushes is that you can also purchase this transparent head protector for each brush, which will protect your brush against cross contamination with other brushes.
As a quick cleaning solution I choose MustaeV Cleaner Spray ($16.00 for 200 ml / 6.75 fl oz) but you can also select MustaeV Cleaner Shampoo to use at least once a week if you are using your makeup brushes everyday.
Along with my new makeup brushes I also got the Color Powder Moonlight in White ($15.00 for 2.5 g / 0.008) which I recently used in my Higher Power Makeup Look (tutorial, photos). If you are not familiar yet with MustaeV Color Powders, these are multi-use products, as they can be so versatile, working as an eyeshadow, but also as a pigment when mixed or blended with different products like powders, highlighters, cream based products or even transparent nail lacquer to create a custom nail color. I've posted a couple of reviews in the past about MustaeV Color Powders and they usually have such a fine texture, but this one is extremely soft and milded. I will tell you more about it and show you close-up photos in my upcoming review.
Enjoy more photos…