Hello beauties!
MAC Mysterious Influence Spellbinder Shadow is one of the eight new colors of MAC Spellbinder Fall 2016 Collection (info, preview) launching in October. I got my hands on three of the new shades (getting more in the future) as I already showed you live swatches of MAC Spellbinder Shadows in Higher Power and Retrograde on Youtube and Instagram as well.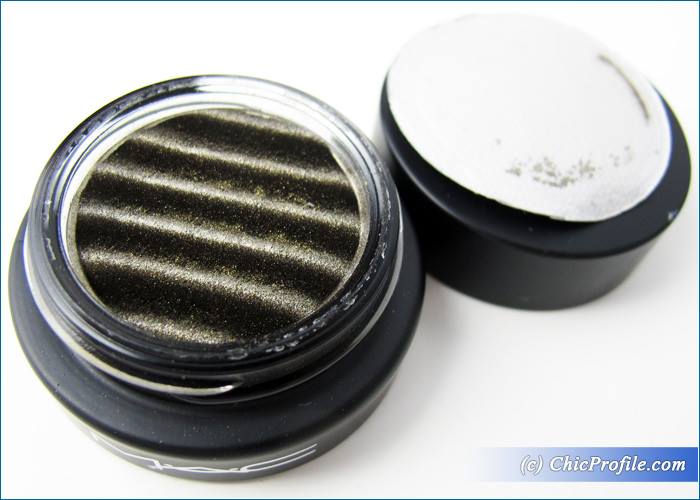 Availability
U.S. Launch Date – October 2016
International Launch Date – November 2016
MAC Mysterious Influence Spellbinder Shadow ($22.00 for 0.8 g / 0.02 oz) is a special loose magnetic pigment in a dark khaki green shade with golden particles and metallic finish. It has a good color payoff, having a decent pigmentation even when applied or swatched on bare skin.
An eyeshadow primer will enrich its pigmentation and will bright out a more richer color with a high metallic shine and finish. I also applied MAC Mysterious Influence Spellbinder Shadow over a cream base like Illamasqua Bibelot Vintage Metallix (review, photos) or Illamasqua Liquid Metal.
Once I dip my brush into the product I make sure to tap off the excess so I will not have any fall-out during the application. The consistency is so soft, mild and super fine, just like a very fine loose pigment. I honestly feel like I'm touching velvet everytime I dip my finger into this product…this is how soft it really feels on my skin.
It applies well, blends easily, adheres well onto the skin and has no fall out during the application if you make sure to tap off the excess before. I absolutely adore this new formula of shadow, a combination between a loose eyeshadow and a pigment, that has a magnetic pan which holds the product in place.
The product comes in a heavy, black, opaque jar and once you open the cap you will have to take off the protective foil to get to the product. I do like the packaging, firm, sturdy and I can get a good grip and hold it firmly in my hand.
You can quickly skip the photos and scroll down to the video to see how the magic happens. I just scratch the product, so I can hit the pan and show you guys how you can easily put it back in place, simply by patting the product back in the pan. You can see how it looks like new again?! I just love this small trick and you must admit it's kind of fun too.
I get around 11 hours wear with this formula before I notice the color looses a bit of its intensity. It doesn't feel dry and it will not look cakey at all. A new makeup tutorial where I'm wearing MAC Mysterious Influence Spellbinder Shadow is on the way. 🙂
Enjoy  more photos…