Hello lovelies!
I've been jumping for joy since my new MustaeV package has arrived! Why is that? Because I was expecting the new Mood Therapy Face Masks that were in the making for over an year. I found out about these babies almost a year ago and since I was already addicted to MustaeV makeup, I couldn't be happier and curios at the same time to see how they will do in the skincare department. Launching soon,  the new MustaeV Mood Therapy Masks represent a collection of four types of sheet face masks suitable not only for your skin's need but for your mood as well.
Each mask will retail for $3.00 but you can also purchase the entire box of 10 sheets masks for $30.00. I'm trying them all and will let you know more about each one of them in upcoming individual reviews. They all seem to fit my mood as it seems that I'm quite the mood changer, but at first I wanted to try the Pleasure Mask since the description of "regain her skin from late night party" suited me perfectly. I will not turn away from the Sadness Mask since I believe everyone needs to have a fresh, lively looking skin even though we are going through some depressing or difficult times in our lives…I hope this mask will make them magically go away.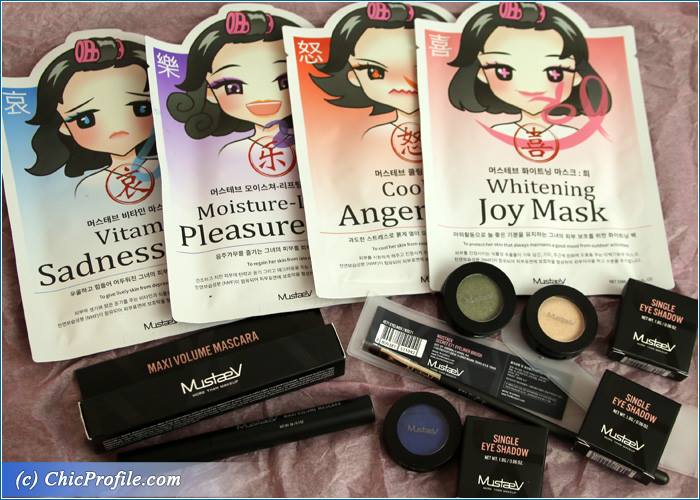 Where to buy:
U.S. & Worldwide – Soon @mustaevusa.com (15% Discount using discount code: chicprofile), @mustaev.co.kr (International Shipping)
U.S. Availability – Now at Beauty Master (Atlanta) | Trade Mark Salon (Houston) | K.Soho (Beverly Hills) | Mariana Meredith Salon (Austin)
Here are quick instructions on how to use MustaeV Sheet Masks before I'm posting those reviews:
Apply on moisturized skin, after cleansing.
Remove the mask from the sachet and gently unfold.
Place the mask evenly on the entire face, smoothing it to fit the curves of the face, adjusting around the eyes, nose, and mouth.
Leave the mask on for 20 to 30 minutes for maximum absorption.
To remove, peel off the mask and discard. Gently wipe off any excess liquid from the skin.
Do not rinse.
Use the excess essence in the pouch and the mask to apply on your neck and the back of your hands.
Each sheet mask is made with a hydro powered jelly essence and an hypoallergenic woven mask that allows maximum absorption into the skin. All four of the masks are made with Sodium Hyaluronate which is a water-soluble form of hyaluronic acid. It is a smaller molecule which allows it to more easily penetrate the skin. It provides immediate hydration and uplifts the skin.
I honestly can't wait to be spoiled by these masks…I wonder how my mood is going to be tomorrow, because during the weekend I know I will have some heavy partying so I'll be counting on the Pleasure Mask on the next day.
Apart from these new masks I also got three eyeshadows in Gumball, Skin and In The Club with matte and satin finishes. I'm expanding my MustaeV Eyeshadow Collection (info, photos) so I'm trying new shades like blue and green as well. Each MustaeV Eyeshadow retails for $13.00 for 1.8 g / 0.06 oz and I'm happy to report that I haven't found a single shadow formula that I won't like. You just have to try them to see how amazing they are.
One of my all time favorite mascaras is MustaeV Maxi Volume Mascara (review, photos, swatch) ($18.00 for 6 g) and I had to have it again as my lashes were craving its formula and the collection didn't feel complete without it. I will try to post a new article featuring the new MustaeV Maxi Volume Mascara as I noticed some differences in the packaging and I want to make more like an update post. The formula is still amazing. 🙂
Enjoy more photos…