Hello sweeties!
MustaeV Easy Go Kowonhye Brush Set is a chic set featuring six brushes that has definitely made me wanna love start packaging for a weekend gateway. There's been several weeks now since I'm going away for the weekend and MustaeV Easy Go Kowonhye Brush Set has made my life so much easier, knowing that my brushes are so organized and I have all the tools I need in this zip up pouch. I used them on a daily basis a couple of times but I like to keep them grouped as they are knowing that I have them ready in just a few seconds.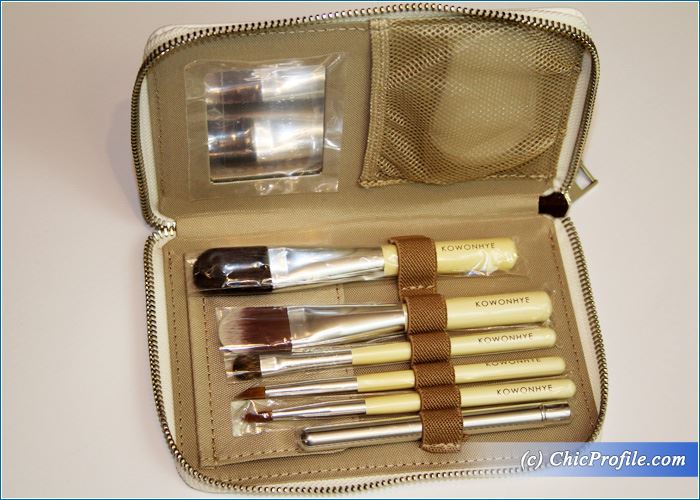 Easy portable brush set, containing 6 individual  collection brushes. Perfect if a simple touch-up  is needed when on the go. Redefining the
foundation, rouge, lips, eyes, and brows for the  ultimate long-lasting look.
Where to buy:
U.S. and International – Now @mustaevusa.com (15% Discount using discount code: chicprofile) Worldwide Shipping, @mustaev.co.kr
MustaeV Easy Go Kowonhye Brush Set ($99.00 on sale NOW from $172.00) contains 6 individual collection brushes. MustaeV and Director Kowonhye have thought of everything so you will find exactly the necessary brush you need for a casual or even more sophisticated makeup look when you are traveling. The handles are considerably shorter than your usual makeup brushes and that's why they are so travel friendly.
The set doesn't only come with the option of choosing between a pink or white pouch, but also has a mirror enclosed and individual brush covers. I absolutely love that MustaeV offers brush covers, for each of their brushes and they custom made to fit the size of each brush. This is something that I always loved about MustaeV brushes, not only the attention to detail but how you can preserve the quality of your brush in a more hygienic way. It prevents deformation of the bristles and cross-contamination between cleanings. You can buy a brush head protector individually for only $1.00 if you want and they can match even MAC brushes or any other brand.
Easy Go Kowonhye Brush Set includes a blusher brush, foundation brush, small shadow brush, eye brow brush, eye liner brush, and lip brush. I have other MustaeV brushes in my collection and I've been using them regularly for years now so I truly recommend MustaeV Secret Brush Collection (everything you need to know about these brushes).
I love the soft hairs of each Kowonhye brush and how well they perform on the skin, mixing and blending makeup products to create a flawless makeup look. The brushes are made from different hair types and they are so easy to clean, even after you've used them to create a smoky eye or mixed them with some dark eyeshadows, smudge your eyeliner underneath your lower lash line for a more dramatic effect….they can simply face any makeup challenge and came out clean, soft and ready for a new application.
Lip Portable Brush
Is made of soft and elastic Taklon hair and comes packed in a silver, mirror-like tube.
Eye Liner Brush
This one is also made of the same soft and elastic Taklon hair. It has a pointed tip which allows you to effectively draw the shape of the eyes and create different lines.
Eye Brow Brush
Made of soft sable hair, which is firm but flexible, the eye brow brush makes it possible to create a natural defined brow.
Small Shadow Brush
Made of soft, elastic pine squirrel hair, this brush is used to apply eye shadow. It delicately creates a sense of rich color.
Foundation Brush
Made of soft and highly elastic Taklon, this brush works best with liquid or cream foundation. A superior foundation brush that does not change its form with extended use.
Blush Brush
Made of top quality goat hair that provides luxuriously soft bristles and a smooth and even application. The blush brush can be used as a small powder brush as well.
Enjoy more photos…