Hello beauties!
It was about time to post my review for the new MustaeV Baby Pink Silky Cotton Loose Powder as I've been using it constantly for a couple of weeks now. MustaeV released now in the summer time the new shade #02 Baby Pink. This is going to be a permanent shade for you to enjoy as well as the previous release of MustaeV Translucent Silky Cotton Loose Powder (review, swatches).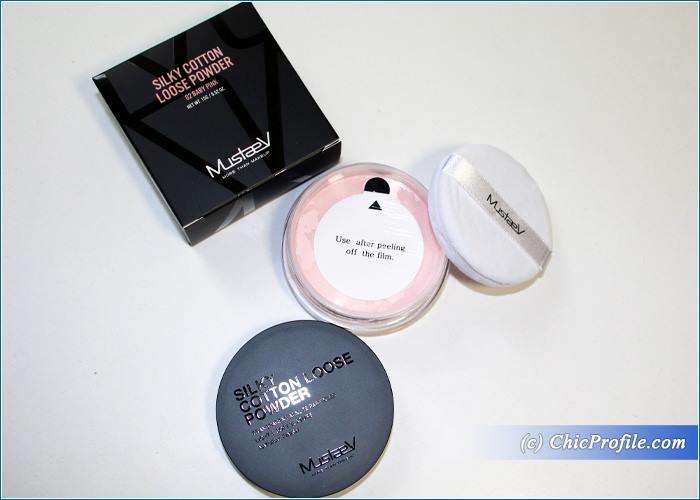 Where to buy:
U.S. & International – Now @mustaevusa.com (15% Discount using discount code: chicprofile) Worldwide Shipping, @mustaev.co.kr
MustaeV Baby Pink Silky Cotton Loose Powder ($25.00 for 15 g / 0.52 oz) is a light, white-pink with cool undertones and a matte finish. Its light pinkish hue gives and instant freshness to your complexion, eliminating unwanted shine and leaving a natural looking finish.
I have a combination skin type so a loose powder is a must-have products in my makeup collection, a product that will complete my makeup look and fight the oiliness throughout the day. With MustaeV Silky Cotton Loose Powder in Baby Pink you will get the appearance of smooth, polished skin.
The sebum control powder absorbs sebum and assists with maintaining a hydrated, non-drying feel. While it eliminates shine it gives a soft, semi-matte finish that you will enjoy for the rest of the day.
This powder is made from fine particles so it feels incredible lightweight on the skin, highlighting its natural brightness. It won't set into fine lines or wrinkles, on the contrary will just smooth and even the texture of your skin.
It's very silky and finely-milled and looks so natural on my combination skin without looking powdery, cake on, or unnatural. It helps set in place any cream or liquid foundation and my makeup lasts longer if I use this powder, compared to not using one. This powder instantly mattifies my skin and adds a bit of freshness to it thanks to its light pinkish hue.
It comes in a rounded, plastic, transparent jar with a black cap and microfiber powder puff that you can use to distribute the fine powder particles. Even with my previous powder, I like to use the powder puff…but there are times when I prefer dipping my brush into the product and gently sweeping the brush over the entire face focusing on the T-zone.
Everytime I get this light feel and a semi-matte veil of powder covering my face and keeping my complexion shine free for somewhere around eight hours. Of course that when the temperatures are very high I need to touch up after 4 or 5 hours.
Enjoy more photos…