Hello beauties!
I previously told you how much I needed a new makeup palette that could host all of my MustaeV Single Eyeshadows (preview, photos) so today I'm happy to tell you everything about MustaeV 24 Eyeshadow Palette. This will be soon launched on MustaeV website but for the moment the brand choose to display and sell it only at The Makeup Show event in U.S. so it could get a feedback for his customers and makeup artists and see if this is a makeup items that is worth releasing. I will definitely let you know once I'll know the launch date but in the meantime check out my review down bellow if you are interested in this product.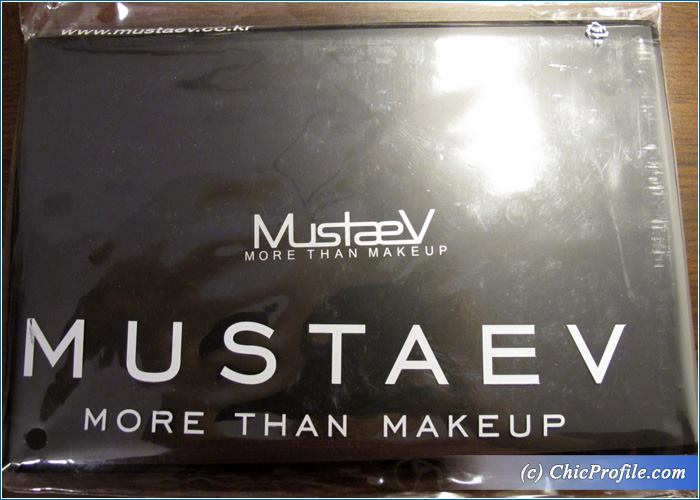 Availability
U.S. Launch Date – TBA @mustaevusa.com (15% Discount using code: chicprofile), @mustaev.co.kr (International Shipping)
MustaeV 24 Eyeshadow Palette comes as a black rectangular plastic makeup palette with a sleek design and the brand logo embossed on top of it. I like the simplicity of this palette which makes it look professional, chic and classy in the same time. The palette snaps shut and it doesn't have any magnetic base as the Z palette have.
Since it hasn't been released yet and the brand is still considering releasing it, I don't have all the official information but I'm just assuming based on the already announced 15 Empty Shadow Pro Palette that this one will be named as MustaeV 24 Color Shadow Pro Palette.
You can customize this shadow palette by choosing your favorite eyeshadows from the 61 eye shadow shades MustaeV is currently offering. I own only 14 single MustaeV eyeshadows but my collection will definitely get bigger, now that I have space to store them.
I always had a hard time deciding which shades should I take with me when I travel as I wanted to bring all of them but considering they took up so much space, a new customizable MustaeV makeup palette was necessary.
After I depotted all the eyeshadows (a process that took me less than 5 minutes) and arranged them inside the palette by color family or finish, I also took the top part of the label from each single eyeshadow case and stick it inside the MustaV palette so I could still have the names of all the shades along with their details. In the future I'm thinking of buying some white paper round stickers and write the name of each shade and stick them inside the palette while placing the current black rounded label on the back of the palette and seal it with a plastic foil, but I shall see what other ideas comes to mind.
Some of you might remember that I already own an empty MustaeV Quad Shadow Palette (review, photos) but I could never decide which shades should I put there as I wanted to have all of them in the same place. Now after I depotted them all I'm thinking that if I'll go a short trip or I'll just simply need to carrying some of them with me in my purse to have them in hand for a quick retouch I could simply remove them from the MustaeV Palette and insert them just as easy in the quad palette.
I know I've already told you how easy it is to depot MustaeV Single Eyeshadows in a previous article but since I've done this process for all my shades recently, I just can't stress enough how amazed I'm that a single eyeshadow can be depotted in less than 10 seconds without needing any other tools than a paper clip.
The first step is to remove the black top part of the label from the back of the eye shadow and I will advise caution here because you can use it later on to stick on the back or inside the palette so you want the entire label to be removed evenly and nice.
You will see a small visible hole on the back of the eye shadow case and you need to insert a paperclip into the hole and gently push the shadow pan out of the case. You just need to apply a bit of pressure because the pan is glued to the case and it doesn't have a magnetic base and don't worry about piercing the pan as it won't happen as long as you won't use anything sharp.
Simply insert the eye shadow pan into the MustaeV Palette and it will hold perfectly.
This is the entire depotting process of MustaeV Single Eyeshadows, with no stress, no fuss and only with the help of one product.
I truly think that MustaeV should release the 24 Color Shadow Pro Palette sooner, as it's a must have for every makeup artist out there who works with MustaeV eyeshadows, but also for its customers and makeup addicts who like to store their products properly and like their makeup palettes to be customized according to their preferences.
Enjoy more photos…