Hello beauties!
It was about time I would show you at least some of the new Melkior products that I've been using for the last two months. My Melkior makeup collection just got pretty big in the last six months and even though I'm giving you a first look on Periscope, showing you swatches and telling my first impressions (video), individual reviews are still needed in order to get a closer look at the colors and find out more about the formula and long lasting properties.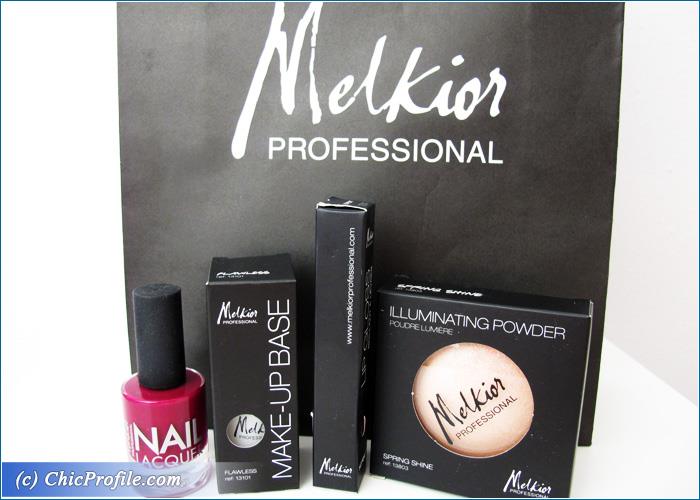 Availability
Romania – Now @melkior.ro and at all Melkior Locations
France – Now @melkiorprofessional.fr and at Melkior boutiques
Poland – Now online @melkiorprofessional.pl
Moldova – Online shop @melkior.md
These are the products I've been playing and using in my  makeup looks for the past few weeks, well all except the nail polish of course. I must admit that Melkior Flawless Make-up Base (89.90 Lei for 15 ml / 0.5 fl oz) is almost frequently included in my makeup routine, to the point that I've almost finish it. I really like the packaging, as the bottle is so small, very easy to hold and comes with a pump applicator for easy application, not to mention it's also travel friendly. It is a mattifying makeup primer and actually does quite a nice job at keeping my complexion shine free and make any foundation last longer. So far even though I like the cute small bottle I can also see it as a downsize as you can't count on it for more than 3 months and when the product is less than a half left it gets kind of tricky to get it out since the pump applicator doesn't have a long tube which goes down straight to the end of the bottle.
I was always curious to try out a Melkior Illuminating Powder ( 59.90 for 11 g/ 0.38 oz)and see how intense it can be, so with my first visit at Melkior headquarters I also took this gorgeous illuminating powder in Summer Shine. I've already wore it a couple of times and there are some makeup tutorials waiting to be edited and posted so you'll see me wearing this powder pretty soon. This one really gives a high illuminating effect, it's pretty potent and pigmented so you might wanna go easy on the apples of your cheeks when applying it.
A lip gloss kinda girl can never have too many shades so I couldn't let Melkior Sorbet Lip Gloss (44.90 Lei for 9.5 ml / 0.32 fl oz) pass me by. A bright vivid peachy pink color with an intense shine like this one really deserves more attention and a detailed review.
So I'm back to the Melkior Wild Love Nail Lacquer (29.00 Lei for 15 ml / 0.5 fl oz) a gorgeous purple-burgundy shade that I loved it and choose it from all the others but I just didn't have the time to wear it. I surely hope I will stop being so lazy and get to apply it later tonight. In my defense I want to say that I also took like a month period, more like a break from nail polishes, as my nails really needed a time off and I applied only nail treatment and base coats.
Enjoy more photos…