Hello cuties!
Before I'll get into those individual reviews I wanna give you a quick peek of Melkior Indian Summer makeup products that I got last week. Recently launched the new Melkior Indian Summer 2015 Collection (info, photos) reveals bright, intense colors which were inspired by Indian women colorful makeup. If your makeup style is full of bright deep shades then you should definitely have a look at this collection.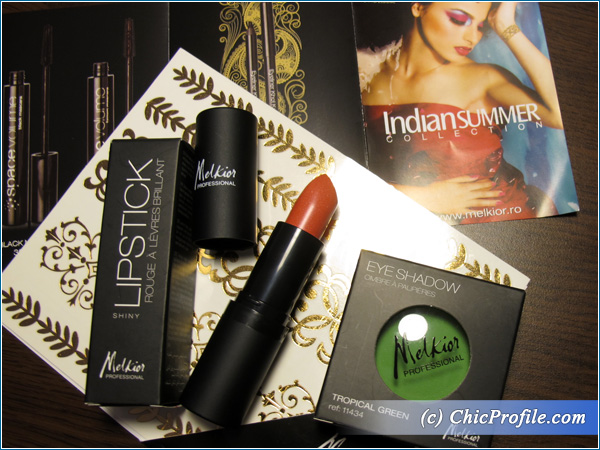 Availability
Romania – Now @melkior.ro and at all Melkior Locations
I'm wearing right now the new Melkior Fleureter Shiny Lipstick (39.90 Ron for 4.5 g/ 0.16 oz) and I can say it's a shade that complements my light skin tone and is perfect for a day summer makeup look. It ads a bit of shine to the lips, but nothing over the top, just a touch of soft sparkle.
Melkior Tropical Green Eyeshadow (27.00 Ron for 3.2 g / 0.11 oz ) is a true bright matte green with a touch of yellow to it and the kind of shade that will definitely not go unnoticed.
I'll be creating a quick makeup tutorial using this shade later this week and after that I will be able to give you a full review on how this eyeshadow behaves.
In the meantime I would love to hear if you've already purchased anything for this new Melkior summer collection or if you have any favorite shades.
Enjoy more photos…