Hello beauties!
Melkior Ethereal Eye Shadow entered into my life a few months ago at the last #BeautySwapbyBeautyBarometer event dedicated to bloggers. I was already familiar with Melkior eyeshadows but a nude eyeshadow is always a versatile shade and can be mixed with any other color and also used on its own for a natural, day to day look. So, I accepted the new Melkior Ethereal shadow into my collection and put it to the test to see how it performs.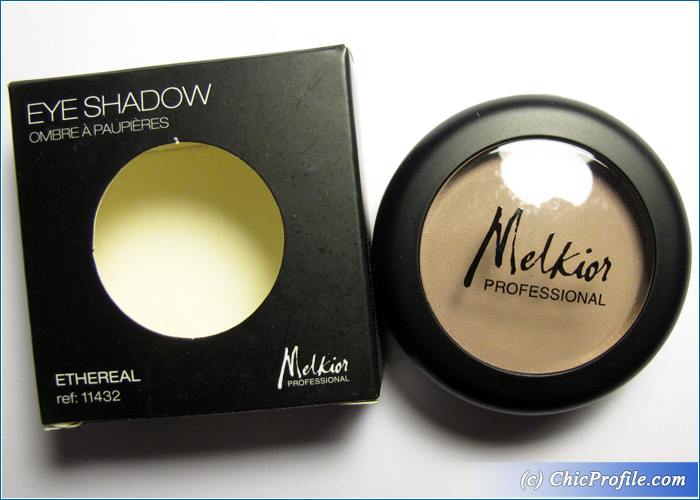 Availability
Romania – Now @melkior.ro and at all Melkior Locations
France – Now @melkiorprofessional.fr and at Melkior boutiques
Poland – online @melkiorprofessional.pl
Moldova – Online shop @melkior.md
Melkior Ethereal Eyeshadow (27.00 Ron for 3.2 g / 0.11 oz ) appears as a medium brown latte with gray undertones and a matte finish. This is quite a classy color, one that can complement any eye color and can match the skin tone of those with dark skin and used in the crease or in the outer corner of the eye for those with a lighter skin tone.
The texture is super soft, smooth and I find a real pleasure in swatching it, as it is so light to the touch. It has a high color payoff, quite a good pigmentation as it is intense and opaque even when applied without an eyeshadow primer. When I swatch it though, it leaves a bit of a fall-out in the pan but when applied on the lid is has no fall out. It is crease-free, easily blendable and its soft matte finish makes it also the perfect color for those with hooded lids.
I had a decent 8 hours wear with this formula before I noticed the color was slowly fading away. It's one of those shades that's perfect for everyone.
Like all the other Melkior single eye shadows, Ethereal comes in the same rounded black plastic case with a transparent lid that snaps shut. Melkior has a different packaging when it comes to its single eyeshadows, as you can see in the photos bellow and underneath the eyeshadow lid there's a small mirror that will come in handy for a quick makeup retouch if you decide to take the product in your bag.
Enjoy more photos…