Hello pretties!
After months of testing and wearing I'm finally writing my review for Max Factor Lasting Performance Foundation, a product that I received last year at a beauty event hosted by my friend Ana Maria from BeautyBarometer. I'm quite familiar with most of Max Factor foundations and if you read my blog from the beginning you will surely remember how deeply I was affected by Max Factor Second Skin Foundation (review, swatches) being discontinued a few years back, as for me was the best natural coverage foundation, a product that I genuinely loved. When it comes to reviews I always get lazy for some reason, even though in this case I truly used this product a couple of times a month and this is not the only one who waited patiently to be reviewed as I have a few things to say about Max Factor Skin Luminizer Foundation (swatches) as well.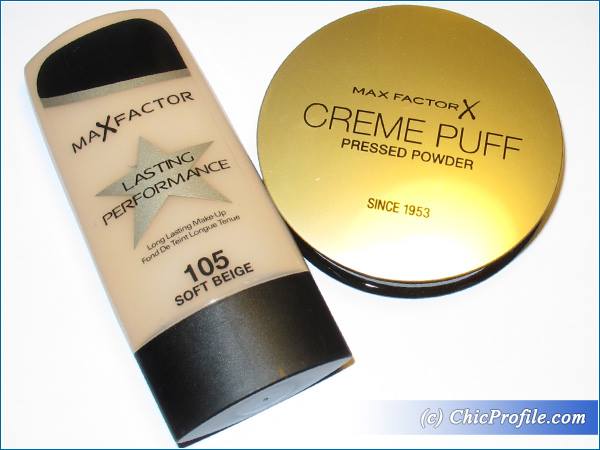 Availability
International / Romania – now at Boots, Douglas, Sephora, Aucha, DM drugstores and online @emag.ro, @boots.com
Max Factor Lasting Performance Foundation (£9.99 / 42.00 Lei for 35 ml) comes in six shades but the one I got and I'll be reviewing today is #105 Soft Beige, which is situated somehow at the middle of the color range. I have a combination skin type and I'm a natural blonde with a light complexion so for me personally #105 Soft Beige is just one shade darker so it would match my skin tone better during the summer.
It has a creamy but light formula which goes on smoothly when applies onto the skin with a brush, beauty blender or even your fingers if you prefer this method as I do. It gives a medium to full coverage with a soft satin to matte finish that looks so natural. I wouldn't say it's completely matte finish but just a softer variant which makes it look more natural and doesn't give that harsh powdery effect.  I usually prefer foundations with a matte finish a sheer natural coverage but Max Factor Lasting Performance Long Lasting Make-Up is the kind of product you wanna keep close by and use it on those days when your complexion needs more coverage.
I like that it feels so light and comfortable onto the skin, being suitable for sensitive skin types as well. It's somehow familiar with Revlon Colorstay foundation which is known to be full coverage and ideal for combination and oily skin types, the difference being that Max Factor Lasting Performance gives more of a softer natural look and has a long lasting formula that guarantees eight hours wear.
It's fragrance free, non-comedogenic so it won't clog pores and prevents your face from shining for up to 4 or 5 hours. I usually keep in my bag bloating papers and I use them only on my T-zone. I like that it behaves well in combination with Max Factor Creme Puff Pressed Powder but I also paired with MustaeV Silky Cotton Loose Powder (review, photos).
I'm not really impressed by the packaging as it looks kind of cheap but considering it's almost a drugstore product and the price is quite affordable I can look the other way as I'm also pleased with its quality. It comes in a transparent plastic tube that need to be squeezed for the product to come out and I admit I would have preferred a bottle with a pump but the price would have certainly gone up.
Enjoy more photos…